Online education has revolutionized the way higher education is delivered, and with it comes great opportunities for students to learn from anywhere at any time. But while online education offers much in terms of convenience and accessibility, it also presents a unique set of challenges when it comes to effectively engaging students. Without an instructor or classmates physically present, educators must find new ways to foster enriching educational environments that are engaging and motivating for their students. This article will go through the various types of online education and how to humanize it with four different methods.
Types of Online Education
To choose the right online learning course, you need to compare and contrast the different formats with their advantages and disadvantages. By doing so, you can make an informed decision that suits your learning requirements and future vocational aspirations. Below are the main types of online education courses that students can take:
Fully Online: This type of program offers all classes completely online, with no on-campus interaction or participation required. These fully online programs may involve self-paced instruction or live lectures, either through webinars or video conferencing.
Hybrid Courses: A hybrid course combines both online and on-campus learning. This type of program may involve a combination of classroom lectures, discussion forums, and online projects or assignments. The proportion of time spent in the physical classroom versus online varies from program to program.
Self-paced Courses: These types of online courses are geared toward independent learners, who have the motivation and self-discipline to complete course work on their own schedule. Students have full control over how quickly or slowly they progress through the material with minimal instructor interaction.
4 Ways to Humanize Online Education
Fortunately, there are a number of strategies educators can use to humanize online education and increase student engagement. Four methods for bringing human interaction into online courses are listed below:
Synchronous and Asynchronous Methods
To improve your relationship with students, it's recommended to blend synchronous and asynchronous methods in your course. You can use tools like video conferencing, audio recordings, or live streaming lectures to make learning more interesting. Plus, collaborative options such as SoftChalk can help students communicate even when they're physically unconnected.
Build Connections with Students
It's important to actively build connections with your students in the online learning environment to make it engaging. You can use tools like discussion boards or online project groups to encourage interaction and collaboration among students. This creates a community where they can share their experiences and ideas. Concentrate on building significant relationships with your students to promote a favorable learning experience. In addition, be sure to provide regular feedback on their projects and assignments, so they know you are invested in their success.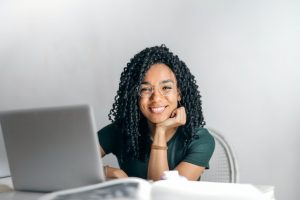 Photo by Andrea Piacquadio
Personalize the Learning Experience
You can personalize the learning experience to fit individual student needs. By leveraging data to track student performance, educators can better understand the diverse learning needs of their learners. Utilizing SoftChalk Score Center, you can easily monitor how well students are progressing through your course content, while also adjusting the pace of your lessons if needed. Moreover, adaptive learning aids such as SoftChalk's interactives; quizzes or activities will enable instructors to personalize content based on each learner's strengths and weaknesses.
Establish Support Systems
Support systems can ensure student success. Establishing an open dialogue between students and instructors is key to fostering a supportive learning environment. Consider using online course surveys or establishing an online chat room for students to ask questions and seek help from their peers or instructors. In addition, adaptive technologies such as SoftChalk's inbuilt feedback system can offer learners prompt, individualized feedback to keep them on track.
To create a more customized, encouraging, and interactive learning experience, instructors can use these methods when designing their internet classes. SoftChalk can be utilized to supervise student development and offer guidance when required, ensuring that all learners are advancing towards their academic goals.
SoftChalk's inbuilt feedback capability is an example of adaptive technology that can help instructors provide personalized guidance to meet the unique learning needs of their students. Using personalized content, establishing a connection between instructors and learners, and tracking learner performance through data analysis can help create an engaging online learning experience.
You cantry SoftChalk todayfor 14 days to see how it helps educators and students communicate effectively.