SoftChalk Teaching Success Stories from the "Godfather" of Online Science—Part 1
Since the early 1990s, I have been developing and teaching online science classes, and my real name (James Brown) resulted in my nickname "The Godfather of Online Science". I have also been referred to as a "Chalkie" since I was an early adopter of the extensive resources available through SoftChalk.As the Dean of Science, Engineering, Health Sciences and Human Performance at New Jersey's Ocean County College (OCC), I submitted a successful grant proposal for a half million dollars from the Robert Wood Johnson Foundation. This funding allowed us to address our county's nursing shortage by placing our nursing program almost completely online. Other than one day of face-to-face clinicals, all the coursework became available online.
To be successful, we needed to place all courses, including the science laboratories, completely online. We searched for and found materials and equipment that would allow students to complete their laboratory laboratories at home, no matter where home was located. SoftChalk gave me the opportunity to include a wide variety of interactive elements with each lesson, which boosted student engagement with the material. Eventually, all of our science faculty were able to use SoftChalk to make their online, hybrid, and web-assisted courses more interactive and engaging.
Interactivity and Student Engagement is the Key to Our Success Online
As a teacher and course designer, SoftChalk allowed me to place a question or other interactive activities (puzzles, image labeling, sorting, interactive games, etc.) at the bottom of every page. This provided a way for students to demonstrate their understanding of the most important point addressed on that page. The activity was graded instantly, providing the student with immediate feedback. These items did not affect a student's grade, but served as a way to build confidence.
SoftChalk offers over 20 different types of interactive games and 10 quiz question types that can be created using the activity templates. By embedding these interactives in lessons, the learning experience becomes more interactive and engaging.
I was delighted to share my enthusiasm for SoftChalk, and faculty were surprised how simple it was to use. Although I'm not an instructional designer, I found that it took only about 2 hours to get folks started. We then worked together on adding interactive activities as course development progressed.
OCC's Associate's degree in Nursing (ADN) is a 2-year degree and provides the minimum amount of education required to become licensed as a Registered Nurse (RN). We found that the students in the One Day per Week Nursing Program (now called the On-Site Online Nursing Program) at OCC actually outperformed the traditional nursing students on ATI's Test of Essential Academic Skills (TEAS Test) used to determine how likely it was that applicants would be successful in our nursing program.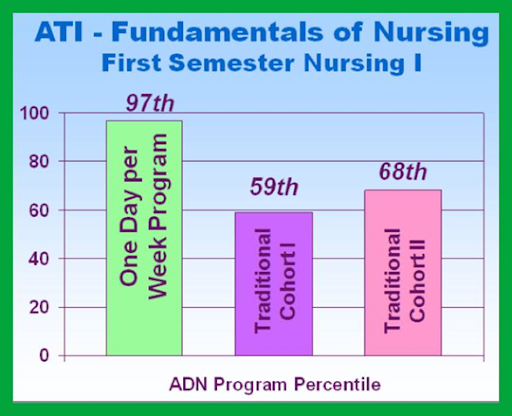 Graph shows beginning ADN students outperforming face-to-face students on the ATI TEAS test.
After graduation, all of our new nursing graduates took the National Council Licensure Examination-Registered Nurse (NCLEX-RN) required by the Boards of Nursing in all jurisdictions in the United States. Unbelievably, the online students performed as well as the regular face-to-face students. Both groups had the same face-to-face clinical experiences. I believe the interactivity built into the online courses using SoftChalk made a critical difference.

OCC One Day per Week Program graduates out-performed the Face-to-Face traditional nursing program students on the NCLEX.
It was not unusual for me to receive emails and notes from graduates thanking us for providing the online option.
"Dr. Brown, I wanted to thank you for the online design of the courses taught in the One Day per Week Nursing Program. I loved the questions at the bottom of each page. [They] really helped me to understand what was important to remember and concentrate on. I am a single Mom and being able to take this program at OCC has changed my life. I want you to know that I just passed the NCLEX exam and am now an RN employed at the Kimball Medical Center." (Student in the first One Day per Week Nursing Class)
Although some faculty initially questioned whether online instruction was effective, test results and student satisfaction showed that building SoftChalk's interactive components into online courses played a significant role in improving student engagement.
Examples of Interactives in Various Courses
In the end, we developed a total of 14 fully online laboratory science courses using Hands-On Laboratories LabPaqs, including Anatomy and Physiology I and II, General Biology I and II, General Chemistry I and II, and General Physics I and II. Most of these were designed using SoftChalk.
I became more and more involved in designing and teaching online courses for a variety of colleges and universities across the nation, and had the pleasure of reaching out globally to deployed members of the US military. Most of my students are enrolled in nursing, science, public health or other healthcare courses, and using SoftChalk has been a major key to my success.
In my experience, engaging students early and often is absolutely critical to the student's ultimate success in the course. I often start out with simple QuizPoppers.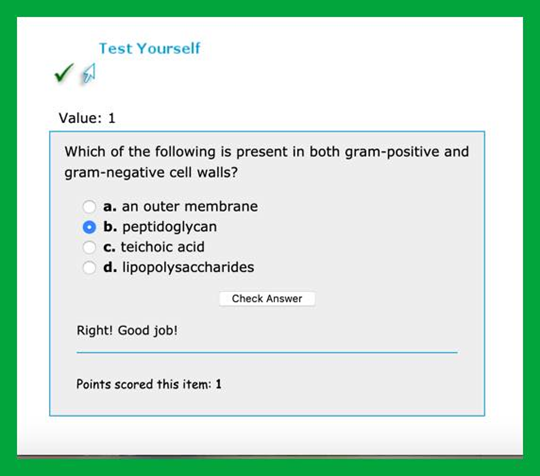 This is a simple tool that allows the instructor to identify the most important point on the page, and to ask a question that focuses the student's attention on that area. More recent versions of SoftChalk now allow the instructor to include images (and even include images with the feedback that's provided when the student chooses the incorrect response).
There are hosts of automatic scoring QuizPoppers which are very helpful. These include matching, ordering, true/false, multiple answers, blanks, choice and more. Quiz groups can be organized all at once or one at a time.

I also like using the DragNDrop activity. This example illustrates the components they would find on bacteria and I use it in my microbiology courses. Students drag the items and match them to a list of corresponding items. I also use this as a way for students to match chemical formulas to the correct title.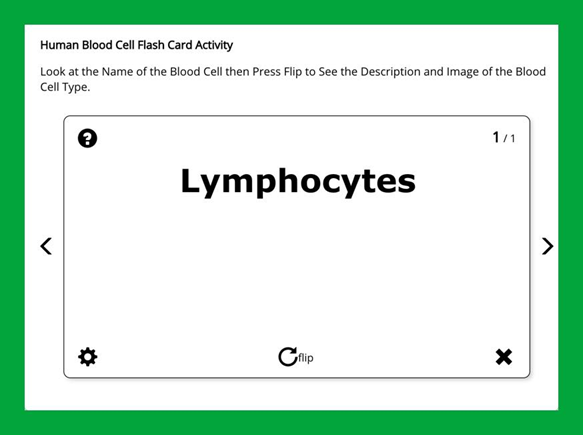 Now Flip the Card!
Another great learning activity is the use of Flash Cards. Students can view words/phrases or images and "flip" the card to see their corresponding definition or example. These are useful to teach students about different kinds of cells in anatomy and physiology or different kinds of organisms in microbiology.
Flash cards are strategically designed to enhance and encourage active recall. For years, educators have known that physical flash cards allow students to interact with information in a way that makes it easier to retain. SoftChalk has made it possible for online students to reap these same benefits with digital flash cards.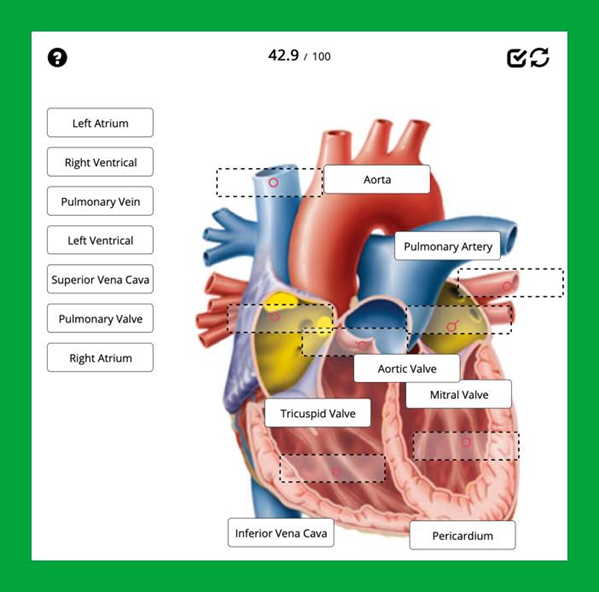 I especially enjoy using labeling to teach anatomy and physiology. In this diagram of the human heart, students must place labels in the correct locations. The label can be placed directly on top of the image, as it is in the Aorta, above. Different colored lines and sizes can also attach from the label off to the side of the image and extend directly do the correct place on the diagram such as the Inferior Vena Cava in the bottom of this diagram.
Students receive a pleasant sound as feedback for a correct response (and an annoying one if the response is incorrect). This activity can be redone over and over again until it has been completed correctly.

Dr. Brown speaking at the 2018 National Conference of the USDLA in Indianapolis presenting "Placing Prerequisite Nursing Lab Science Courses Totally Online"
Another fun activity is the use of crossword puzzles. Students identify a word with a clue that's provided. In the photograph above, I demonstrated the use of SoftChalk learning objects for teaching General Biology I online.
Studies have shown that crossword puzzles arean effective way of learning. Although they are perceived as a recreational activity, evidence shows that they enhance student learning and exam outcomes in an enjoyable and non-threatening way. Indeed, most people are already familiar with crossword puzzles and minimal directions are needed. Davis, Shepherd and Zwiefelhofer in the Journal of Effective Teaching write that "crossword puzzles have been shown to be effective teaching tools of terminology, definitions, spelling, and pairing key concepts with related names, resulting in greater retention and memorization of facts."
Indeed, I think the best thing about using SoftChalk Cloud is the built-in interactive components that inspire student engagement in the online course.
---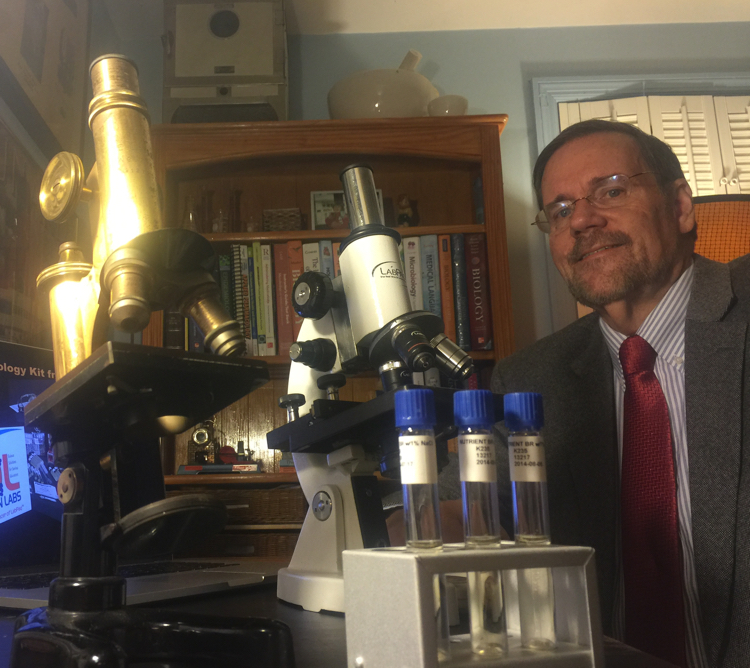 Dr. James Brown is a pioneer in online course development in science. He has been dubbed the "Godfather of Online Science" and recently has been designated One of the Top 40 Innovators in Education by the Center for Digital Education. He received his M.S. and Ph.D. in microbiology from the Waksman Institute of Microbiology at Rutgers University and an additional M.S. in Health Sciences from New Jersey City University. He is a former director of microbiology for Roche and an Assistant Commissioner of Health for New Jersey overseeing the Division of Public Health and Environmental Laboratories. He is a former dean of Science, Engineering, Health Sciences and Human Performance for Ocean County College that became an East-coast powerhouse for online science course development with over 14 unique online science courses.
He is president of James W. Brown Associates LLC which develops online science courses for colleges and universities with a special focus on the pre-nursing science courses of Anatomy and Physiology, Microbiology and Chemistry which are all designed using Hands-On Labs LabPaqs as the foundation for the laboratory experience. He developed the Online Science Laboratory Series for the Sloan Consortium (now named the Online Learning Consortium) in the Spring of 2014 which helps train science faculty and instructional designers in how to develop online courses in science. Dr. Brown currently teaches science totally online at The University of New England, Colorado Christian University, The School of Professional Studies at the City University of New York and Gwynedd Mercy University.
Dr. Brown presented "Opening Online Laboratory Science Courses to the World Community at the International Higher Education Teaching and Learning Conference at the University of the West of Scotland held in Paisley Scotland, June 28 – 30, 2017 and "Placing Prerequisite Nursing Lab Science Courses Totally Online" at the United States Distance Learning 2018 National Conference, Indianapolis IN, May 1, 2018. He has been using SoftChalk to design his online courses since 2003 and has been designated one of our early "Chalkies."