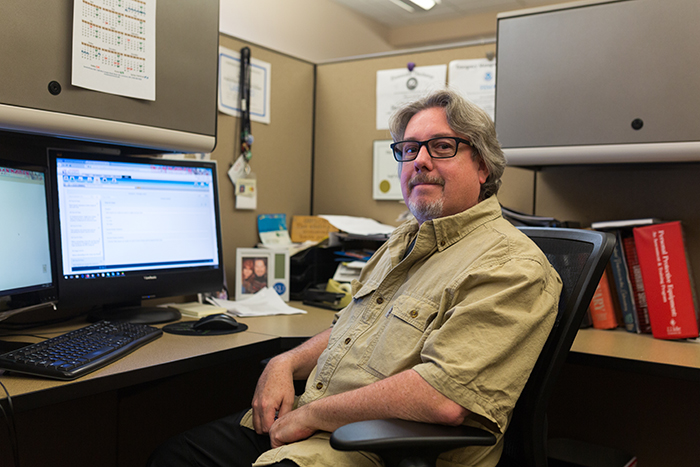 Sean Hadley is the Lab safety specialist in Environment, Health & Safety at the University of Kansas. He is a US Navy veteran and employs a range of skills and experiences above and beyond normal job responsibilities to make the university Blackboard Safety Training initiative a success: Twenty-plus years of experience in university safety management; hands-on education experience as a grade school teacher; technical expertise in web-page development and experience in online training development.
Safety training for faculty and students is of the utmost importance at any institution. But when you're faced with ever-changing regulations, how do you make sure the information stays current? And how do you ensure that those going through the training are properly assessed and those grades are recorded? Whether it's general lab safety, electrical engineering or pharmacy everyone needs to be aware of how to safely interact with their medium and know what to do in case of an emergency.
In this interview you will hear from Sean Hadley, Lab Safety Specialist, at the University of Kansas (KU). He took the need of improving online safety training for both students and faculty and making sure assessment outcomes from these trainings were recorded as his personal project. Since 2008, he has created a vast repository of safety training for numerous departments within KU and made them available to department heads, faculty and students.
SoftChalk: Prior to safety training being available online, how did KU handle this sort of training for faculty and students?
Sean: In the past, our safety training for faculty, staff and students relied heavily on traditional classroom training that utilized the technology that was available at that time. The courses that were taught were PowerPoint or scripted presentations and lesson plans with VHS/DVD video.
SoftChalk: When did the need arise to take the training online and what was the motivating factor(s)?

Sean: Providing safety training has always been a challenge for our organization due to ever-growing campus population size. With our limited resources and budgets, we cannot possibly provide enough in-person safety training courses to campus. The internet was a solution that would help us meet this challenge. However, it also created other issues due to the limitations of most stand-alone software that was available at the time.
Initially, we had some limited success by offering our courses online on our departmental website, but, we had no ability to track student scores/course completions with the stand-alone software solutions that were available in the mid-2000's. That is, until I discovered that SoftChalk had the ability to integrate with our LMS (Blackboard) and student record keeping function! (That was when things began to really take off for our online training program!)

SoftChalk: How many courses are currently available for online safety training and for how many departments?
Sean: In 2013, we launched our initial EHS Blackboard safety training site with 13 course modules. Today we have the initial EHS Blackboard site and three additional departmental sites with 76 total courses available in the curriculum. Course categories are: Biosafety, Fire and Life Safety, General/Employee (OSHA) Safety, HAZMAT Safety, and Lab Safety.
| | |
| --- | --- |
| You can view our online safety training program by visiting our departmental website. | KU-EHS Online Safety Course curriculum. |
| Blackboard student access/self-enrollment instructions. | MyTalent access instructions. |

(Please note: unfortunately we cannot grant access to those who are outside the KU community.)
SoftChalk: How often are regulations from OSHA or others changing and how has your creation and organizing of these modules helped you keep them up to date?
Sean: Governmental rules and regulations can change at any time. However, as a general rule, I review the courses on an annual basis to make sure they are up to date and they technically function properly. Sometimes as the need arises, they are updated as required/requested.
SoftChalk: You mentioned that students are required to go through some safety training. Are students required to complete any other training in terms of environment, health and safety?

Sean: The short answer is no. The general student population does not have a required EHS safety training course at this time. (There is a new course in the works.) However, they do receive EHS mandated safety training in class. Our safety policy requires that faculty and PI's provide and document any and all safety training for their students in their classes.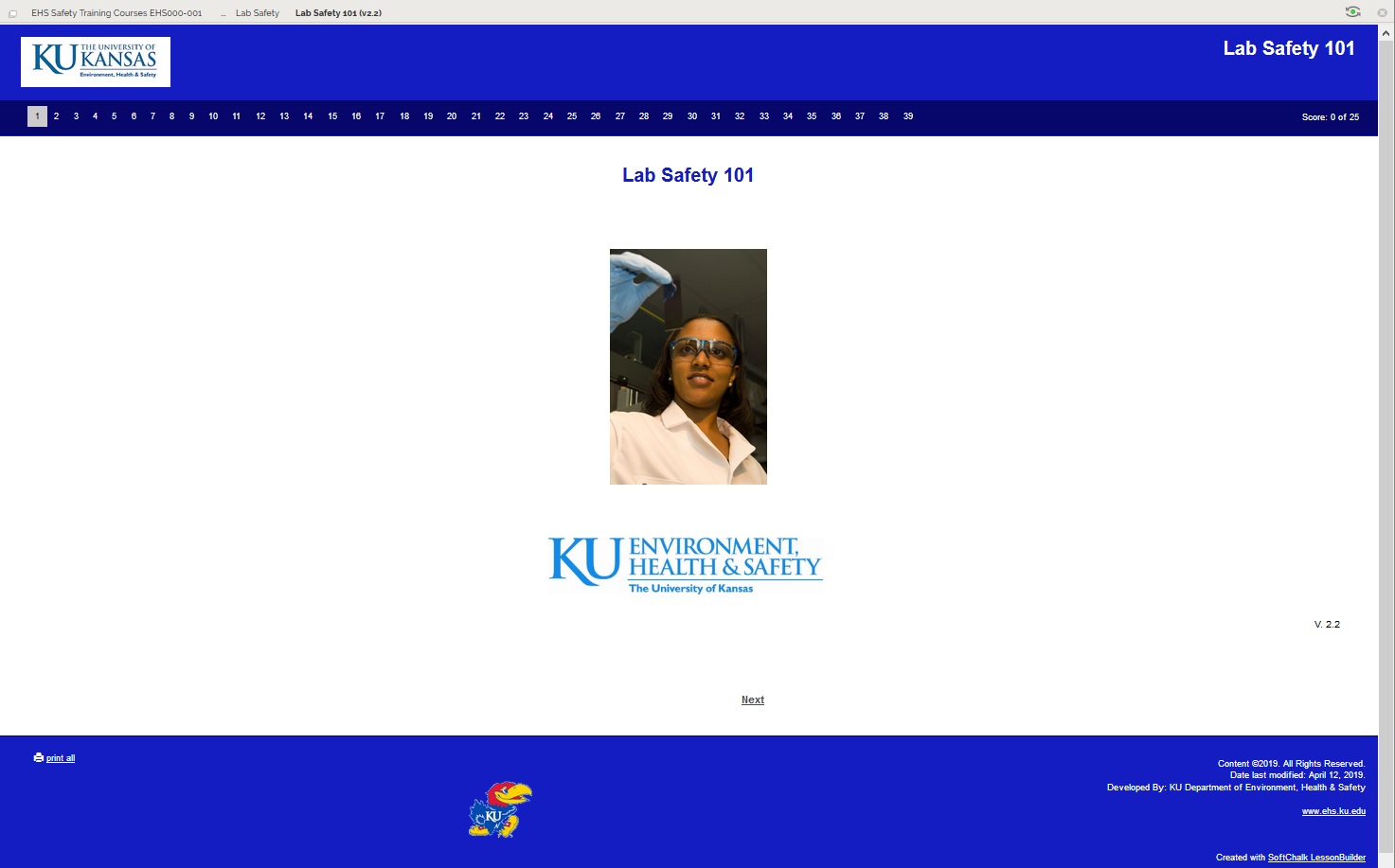 Lab Safety 101 Course


Students
Lab Safety 101 Course Certificate of Completion
SoftChalk

SoftChalk: What about faculty and/or department heads? How is this training available to them and what are their requirements?
Sean: When we started making our safety training available online, it was available to the KU community at large on Blackboard. As the system became more widely used, we discovered that the LMS lacked many features that supervisors and managers were looking for when they wanted to assign and documenting employee safety training.
The solution came to us in 2018 when we were approached by our Human Resources department and asked if we would like to offer our curriculum on their Talent Development LMS (SuccessFactors) system. Of course this solution solved most of the issues for employees, but also created new technical issues that we had to overcome. We now offer 75 online courses to faculty, staff and student employees at KU.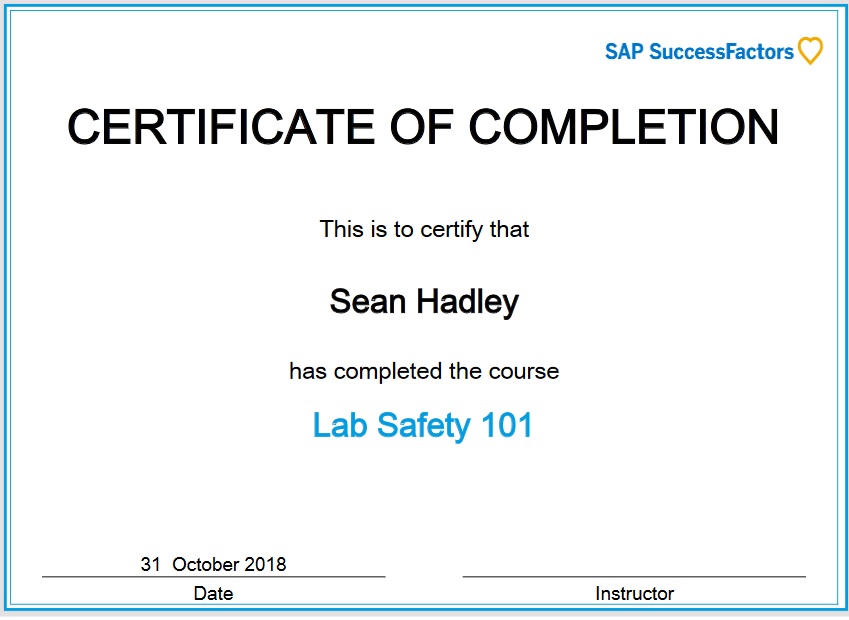 Faculty
Lab Safety 101 Certificate of Completion
SuccessFactors/MyTalent
SoftChalk: How has making these training modules available online impacted the students, faculty and departments?
Sean: Making them available online has created several benefits to the university community.
Faculty and departments have benefited greatly by being able to create their own custom KU-EHS safety course curriculum for their students and employees. Departments can set "minimum standard" safety courses and faculty/instructors can have their own pages with further EHS safety course requirements in their courses.
Students benefit by having an easy to understand "one-stop shop" site to access their instructor-required safety training.
If the department has its own site, faculty and key employees can be granted grader access to view individual student grades.
SoftChalk: For those at other institutions looking to improve their safety training modules, what tips do you have to share for getting started?

Sean: If you have some sort of safety budget, investing in subscriptions services like BLR, National Safety Council, NFPA, or even buying some off the shelf safety training/videos, etc.,will go a long way in assisting you to improve your courses. However, be prepared to do some work when you purchase "off the shelf" training. First, most of it is generic and does not cover topics that are unique to your company or institution. Second, it should be customized with your branding, locations, personnel, etc. in order to give it that personal touch. Finally (and most important), the customization should integrate YOUR institution or company's safety policy first and utilize the other standards as minimum or supporting standard(s).

SoftChalk: How has creating, organizing and updating the safety training modules for KU helped make your job easier and benefited you with your work?
Sean: Quite honestly, learning how to use SoftChalk has opened up new opportunities that I might not have had if it wasn't available. It has been the key to creating a new career path that has allowed me to help educate others that I would have never been able to do in a traditional classroom. Thank you SoftChalk!