We're welcoming back Stephen Holland for another guest post today! Dr. Holland is one of our presenters from the Face-to-Face, Blended and Online Teaching and Learning webinar series, which will be ending with a bang on Friday, October 5. This session will discuss hard data and ask if there is evidence that teaching online produces better learning outcomes. You can find the registration link for the final webinar and recordings of the previous sessions on the Innovators in Online Learning section of our website.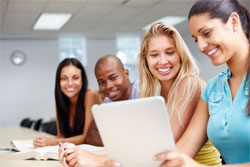 A funny thing happened when learning about my online students this fall. Through the application of the Noel Levitz College Student Inventory ™, I discovered that about half the class would like more opportunity to meet their fellow classmates. It is not just through discussions that they would like to meet each other but rather in-person, especially through student activities. I say "funny thing" because I had not suspected that so many online students would also want to meet classmates in person.
When students tell me themselves they would like to have opportunities to meet each other, then as an educator I need to respond. In addition, I think it is my responsibility to help the online learner embrace this part of the college experience, if for no other reason than the fact that most online learners are already paying student activity fees as part of their tuition that support the clubs' very existence. This is also good for retention.
As I said, it seems ironical that an online college student would make such a request. After all, meeting people in-person is less likely to happen when students are learning at home, isolated away from the college campus. However, they do. The reasons for learning at home, by the way, are many, and not all online students feel the same way, but invitations to participate in activities need to go out to those who do show an interest.
Acting upon this information, I had a conversation recently with a college student government adviser, encouraging him to make a special effort to engage the online learner. That's because many of the online students who want an opportunity to participate in campus activities also ask how to become student government leaders, an activity that requires a high level of commitment. So, after talking with the adviser, I put that student request in the accomplished column. Now I am posting activity announcements for online learners. In addition, one of the transition to college counselors has collected calendars from the three colleges in the Eastern Iowa Community College District where students are served and these are now posted in the course.
At this time I see many online education communities moving toward building social communities. More and more, when students first sign on to their classes, they first see campus announcements. I also see private windows open where students can quickly see how they are doing in their classes. Thus, we educators not only can fulfill the students' need to socialize but also leverage the requests into focusing the students upon their courses.
In conclusion, I think a few simple steps can be enough – a calendar, announcements, invitations, a list of campus clubs. That is, as online instructors we cannot sponsor our own bowling night, but we can connect the online learner to campus activities when events are scheduled. Maybe we will even want to join them ourselves.

Steve Holland teaches English and Education classes online through the Iowa Community College Online Consortium (ICCOC). In 2012, the ICCOC honored him as Teacher of the Year. He recently retired after 25 years of teaching with Eastern Iowa Community College, but he continues to teach and serve as an education consultant. He holds a B.A. in journalism, an M.A. in English, an Ed.S. in Education, and an Ph.D. in Education, all through The University of Iowa. He has also served as a judge for Softchalk's annual Lesson Challenge.