Our next Innovators in Online Learning webinar will feature blendedschools.net (BSN) and their adoption of the first independent, branded CONNECT repository, BSN Cloud. The webinar will show how this implementation supports BSN's initiative to increase accessibility to high quality learning objects and promote blended learning.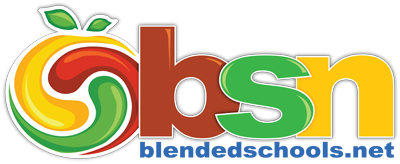 I had the opportunity to conduct a short interview with Deanna Mayers, the Curriculum Coordinator of blendedschools.net, to find out out more about the organization and their interest in starting an OER repository for K-12 learning objects. Read on to get an introduction to BSN and then register for the webinar to learn more about the implementation!
What is blendedschools.net (BSN)?
blendedschools.net (BSN) is a not-for-profit company that provides technology, curriculum and professional development, so schools can easy create and implement online programs and blended learning in every classroom. BSN is not a school. And BSN does not sell single course enrollments. BSN provides K-12 local educational authorities with the resources they need for their teachers to teach their students online and create and provide meaningful experiences that enhance flexible, blended learning opportunities for their students.
Why did the founders of BSN decide to start the company?
blendedschools.net (BSN) was founded by Pennsylvania schools to help schools adopt and implement online teaching and learning initiatives. Initially, BSN focused on helping schools expand course offerings for small and rural schools. BSN quickly grew into helping schools provide cyber academies and online summer schools. Today, the largest use of BSN's technologies, curriculum and professional development is to transform regular classrooms into blended learning communities.  
How many classes/courses are currently being offered through BSN?
BSN provides about 180 different one-semester K-12 courses to our member schools. The courses cover core curriculum kindergarten through high school and a wide variety of electives from music to Advanced Placement to elementary health. More than 20,000 sections of these courses are being taught in our member schools this semester.
Who develops the course content?
BSN courses are developed by certified educators to meet state and national standards, including Common Core standards.  Teachers participate in extensive professional development in technology, instructional strategies, and curriculum design. The professional development is delivered in a blended learning format, offering face-to-face training along with synchronous and asynchronous online learning experiences.  Our course development program is designed to build capacity in practicing teachers, which then influences how teachers teach after completing their course development projects. All learning objects and courses are peer reviewed and go through a copy editing process prior to releasing for use by our membership.
What needs brought BSN to acquire a private CONNECT site (Learning Object Repository)?
BSN is committed to adopting online teaching and learning technologies that expand and enrich teaching and learning. The major goals for our branded CONNECT site are to increase accessibility to high quality learning objects and promote blended learning. The site will be an Open Educational Resource named "BSN Cloud." We will publish K-12 learning objects developed by experienced, trained teachers.  These freely accessible learning objects are peer reviewed and aligned to Common Core Standards.
The goal to promote blended learning is a long-term commitment by BSN to provide teachers and students free and easy access to high quality accessible learning objects.  As teachers begin using more online resources in a blended learning environment, the natural next progression is heightened teacher interest in creating learning objects for themselves.  Once teachers begin to act as instructional designers for online learning objects, their increased capacity increases students engagement exponentially in traditional classrooms.

What features of BSNCloud will be most valuable to your members?
The most valuable resource of BSN Cloud, our branded CONNECT site, will be the comment and rating system.  We plan to critically evaluate comments and use ratings on each learning object to influence redevelopment of our resources.  This direct feedback from the users of our content will increase the quality of our existing content, and build a collaborative environment where "smart mobs" of teachers and students will expand and enrich the online teaching and learning experience.
Thank you so much for your time Deanna, in closing are there any fun facts about BSN that you'd like to share?
I think this is the most important number—BSN is providing the technology and curriculum for about 262,000 this semester.
---
Learn more about BSN's implementation of their own learning object repository by registering for the upcoming webinar:
Empowering Schools to Teach and Learn Online using Open Educational Resources and SoftChalk CONNECT

As blendedschools.net (BSN) creates their learning initiatives it is committed to providing their teachers, students and parents with quality sharable learning objects. BSN is the first to use an independent branded version of SoftChalk CONNECT to enhance their blended learning initiative. BSNCloud will host Open Educational Resources (OERs) built by BlendedSchools.net. The resources will be available worldwide and teachers will be able to directly embed these resources in their learning environment or link to the resource to expand and enrich instruction. During the session BSN will discuss next steps with this tool and how it they plan to use it to encourage and support blended learning initiatives across the country.