As a special consultant to SoftChalk on Blackboard integration, I attended the 2011 Blackboard Conference in Las Vegas last week.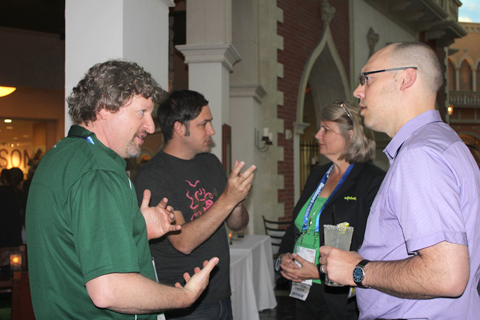 It has been a busy year.
One area we have worked on is integration with Blackboard's CourseSites . CourseSites is a free, hosted Blackboard instance into which SoftChalk users (with a special free trial) can publish directly with a single click.
Another single-click integration is with MERLOT, whose annual conference was also this week. MERLOT integration is just one element in how I have been working with SoftChalk to make it the preeminent content authoring and delivery platform for open educational resources (OER).
Another part of the OER strategy is a series of webinars co-sponsored by leaders in OER such as College Open Textbooks, MERLOT, Connexions and the IMS Global Learning Consortium.
Both SoftChalk and Blackboard are members of IMS, to which I am a special consultant on Common cartridge. SoftChalk and Blackboard both achieved Common Cartridge v1.0 conformance this year, with Blackboard being a leader in supporting Common Cartridge v1.1 and its related specification Basic Learning Tools Interoperability (BLTI). SoftChalk uses BLTI as part of its new ScoreCenter offering, a hosted service for detailed score information that is also integrated into the Blackboard gradebook.
This is my first post to SoftChalk Talk, however I will be chiming in often with updates from here on out. Please leave any comments or questions you have for me in the comments section.