NEW Enhanced File Management Available
We are releasing new and enhanced file management for SoftChalk content!
Keeping in line with our series of next generation updates, our goal is to best equip you to create modern, responsive, and accessible interactive and engaging lessons for your learners.
Here is what the latest SoftChalk update releasing over the next few weeks entails:
Modernized web interface: Uploaded content is automatically sorted, can be viewed by sorted name, date, file size (ascending or descending). Significantly improved response time when content moves on the page. No limit on number of content items visible per page. (A number of the dialogue windows have been updated in-line with the main pages: Sharing, Groups, Upload Files/Upload Lesson, Select Revision, Create/Rename Folder)
Multi-select: A user can now select more than a single content item at a time to Move to another location or Delete.
Subfolders: Users can place or create folders inside of folders to create a nested organization. Users will navigate into the content of each folder (similar to Sharepoint or Google Drive) to view. No more collapsible folder accordions on each page
Dynamic Sharing Groups: Folder sharing has been enhanced to allow sharing with 'Groups' Groups are now dynamic, meaning that once a group of Cloud users is created, a file or folder can be shared with the group by selecting them for share. Once shared, members can be added or removed from the group and all shared items will reflect the new memberships automatically.
Share individual items: Users can now share a single uploaded item or selected items and are no longer restricted to only sharing folders.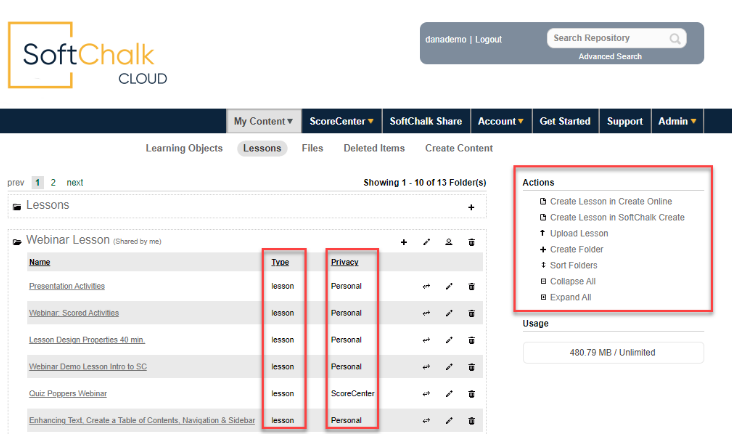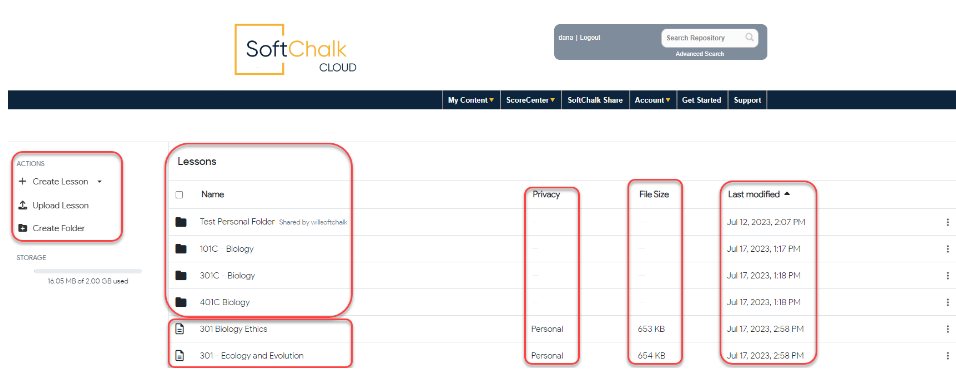 We hope you find these new updates useful as you create and update your SoftChalk lessons!
If you need assistance, contact learnmore@softchalk.com or for technical support, contact help@softchalk.com