Exams can be a stressful time for students. When there's so much to learn for so many different courses, the pressure builds quickly. With the right tools, your institution can ensure that learners feel supported and well prepared going into the exam season. Here are three quick tips you can use to help your students succeed: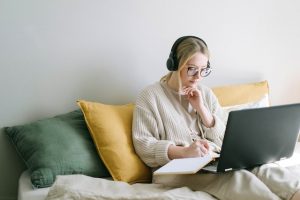 Set up mini exams or revision resources
Giving your learners access to resources like refresher lessons or mini exams and quizzes to complete in exam conditions is a good way for them to consolidate what they have revised so far, get them used to the pressure of completing a test in exam conditions, and it is a good way for students to see how much they have learned. Having each quiz cover certain sections can help students structure their learning schedules and may even serve as a confidence boost if they do well. Use tools like SoftChalk to seamlessly integrate assessment components like quizzes within your refresher lessons.
Use interactive ways of teaching
Trying to revise the entire course syllabus can feel pretty daunting for students and it can sometimes be hard to stay motivated. In your revision learning materials, incorporate interactive components to help students focus and stay motivated to keep revising for their exams. Interactive components that learners love and enjoy seeing in lessons include: jigsaws, puzzles, flashcards and DragNDrop activities. View SoftChalk's list of 30+ interactives here to gain inspiration for your revision materials.
Cater to all learning styles
Every student learns in their own way. There are four learning styles that you should discuss with your class, visual learning, auditory learning, reading/writing learning, and kinesthetic learning. Take some time to discuss how each learning style works and encourage your students to experiment with all of them before the exam period begins. This way they will know what works best for them before they need to start revising. Ensure your revision resources include something for all learner types: audio elements, visual elements, quizzes and interactives.
Creating engaging revision materials is just one of the many ways you can leverage SoftChalk. Take a look at our sample lessons for inspiration to create your own study materials.