Last week, the SoftChalk team headed to to attend 'Fiesta of Teaching Technology' at Allamo Colleges District in San Antonio, Texas.
Fiesta of Teaching Technology (FTT) is an annual event at St. Philip's College of Allamo Colleges District. Education service providers are invited to attend and share the new wave of teaching with technology. FTT is open to all the staff at Allamo Colleges District and was a gathering of around a hundred educators this year. An exhibit hall is set up to showcase a variety of new and exciting teaching and learning technology.
The goal was to keep the educator community informed and up to date with the best way to bring a better learning platform to their learners.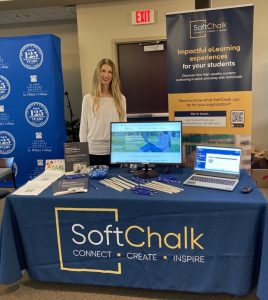 It was a pleasure meeting and having inspiring conversations with our user community. We loved the buzz at our table as we shared upcoming features and the latest product updates. We truly appreciate the chance to connect with you in person.
Stay tuned for announcements on future events you may find the SoftChalk team at. In the mean time, take a look at our live webinar calendar, and make use of our free live training events.