What does your team need to know to do their job even better?
Creating training courses and explainer videos that illustrate organizational best practices, proper protocols for business processes, or teach your team new skills as processes and programs evolve is important for your entire organization. But what's the best way to get your team onboard? Here are five best practices you can enable to create effective training.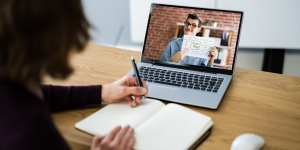 Create content that aligns with the skills you want to update or foster in your team.
Get input from staff through surveys or self-reporting performance reviews. What do they want to learn? Consider what you need your staff to get out of these programs while also taking into account any requests for specific training topics. Programs, videos, and other related materials should be visually appealing, mentally stimulating, and — most of all — fun! An air of fun and lightheartedness helps even the most training-averse members of your staff embrace learning.
Get organized.
This is the most important aspect — it's crucial to the success of your training programs initiative. Ensuring every program is clear and concise, end-of-course summaries support the material and training objectives, and self-assessments apply the material in a real-world manner — that requires thoughtful planning. Thoroughly outline each program, its goals, and your intended outcomes to help guide training material production, including structure, layout, and ease of navigation.
Be creative, original, and flexible.
Once your staff begins engaging with your training materials, you'll have a direct connection that helps you get to know their learning styles, which means you can get creative with future program planning — deliver your content in the way they understand and learn best.
Promote staff engagement.
When you first broach the subject of training programs, your veteran staff may balk at the idea. It's important to make it fun and to find a way to prove to staff that it's beneficial for the whole organization. The team should approach your training programs with excitement. Consider using social media to continue discussions outside of the program. Can you incentivize increased participation through gamification?
Offer ongoing support.
Show staff where additional resources are located, and where they can find assistance if they have any trouble or have questions about training materials. A knowledgeable, well-rounded staff enriches the entire organization.
Training programs are just one of the many ways you can leverage SoftChalk. Take a look at our sample lessons for inspiration to create your own training materials using SoftChalk.