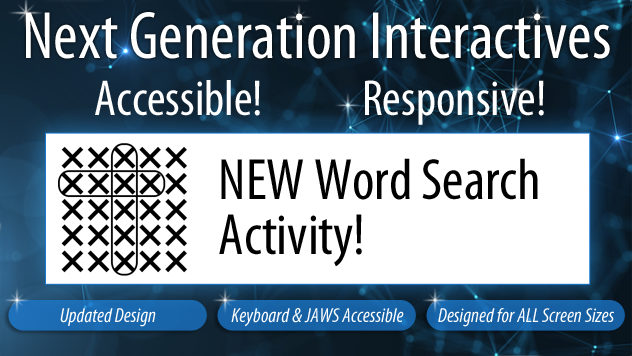 NEW Next Generation Word Search Activity and Server-Side Themes Available
We've just released a new activity for SoftChalk Cloud and the Desktop Create app! In this new update, you'll find a new activity—Word Search—as well as new server-side theme options to create great designs and layouts for your lessons.
Keeping in line with our series of next generation updates, our goal is to enable you to create modern, responsive, and accessible interactive and engaging lessons for your learners. The objectives of these updates are to—
Improve accessibility by making them key-board and JAWS accessible;
Incorporate responsive design so the activities look and work well on any size screen;
Add new features and functionality that can be included in SoftChalk lessons.
We hope you find these new updates useful as you create and update your SoftChalk lessons!
Don't see the option to upgrade? This FAQ may help! If you need additional assistance, please contact our Support Team at help@softchalk.com.