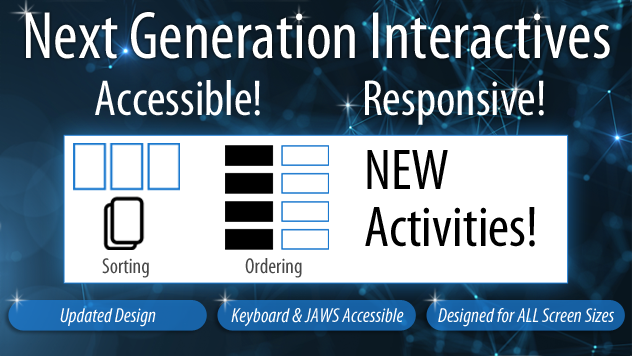 NEW Next Generation Sorting and Ordering Activities now available!We've have just released TWO new activities! In this new update release, you'll find a new version of the Sorting and Ordering activities.

We have completely rebuilt the architecture and redesigned the styling of the Sorting and Ordering activities and 9 other interactives.
We had a few objectives when recreating these:
Update the styling of the interactives
Improve accessibility by making them key-board and JAWS accessible
Incorporate responsive design to look and work well on any size screen
Add new features and functionality
These new interactives are all about enabling you to create beautiful, responsive and accessible interactions for your learners. Get inspiration from these examples of the new Sorting and Ordering activities:
Information about the new updated interactives can be found in the SoftChalk Create Guide, starting on page 161.
We hope you enjoy these new interactives! Look for updates to more SoftChalk interactives in the coming months!
Don't see the option to upgrade? This FAQ may help! If you need additional assistance, please contact our Support Team at help@softchalk.com.