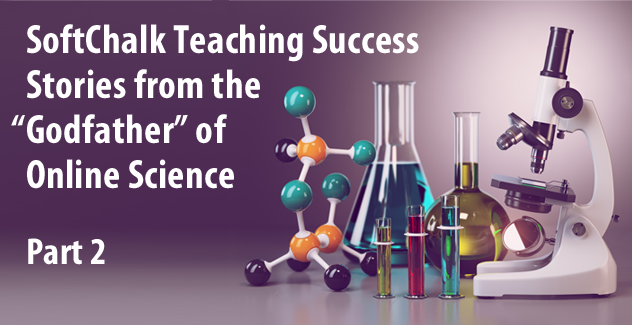 SoftChalk Teaching Success Stories from the "Godfather" of Online Science—Part 2
The Skyrocketing Costs of Textbooks, OER and SoftChalk
In the past 15 years, I've noticed that the price of textbooks that I use in science and nursing has doubled. Many of my students have told me that they couldn't get the required textbook for the course until the next paycheck or until their parents could send them more money.
Textbook companies produced textbooks with an online component that locked students into buying that textbook and online service. This kept students from finding options for purchasing texts at a lower price. I noticed right away that many of the textbook companies were using similar online tools that I had already been using in SoftChalk such as flash cards, crossword puzzles, videos, built in quizzes, etc.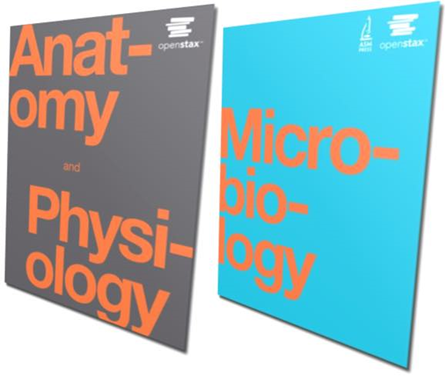 Free Online Textbooks Anatomy & Physiology and Microbiology from OpenStax
In the past 5 years, Open Educational Resources (OER) has made a huge impact on the textbook industry and is actively revolutionizing online and face-to-face education. They started by offering free online textbooks authored using top-notch faculty and available free of charge on day one for the students.
I began using textbooks from OpenStax for my Microbiology and Anatomy and Physiology courses, written by Rice University using philanthropic support from groups like the Bill and Melinda Gates Foundation. The contributing authors were many of the outstanding professors in the field who I had actually met at scientific meetings.
At first, the textbooks did not have the interactivity and student engagement components that were readily available in SoftChalk Cloud. I quickly built my own tests, quizzes and SoftChalk interactivity into my online courses to enhance these free textbooks. It has been a tremendous success, and resulted in significant cost savings for students. My students the University of Alaska Fairbanks, Gwynedd Mercy University and the School of Professional Studies at the City University of New York appreciated the lower cost and ease of use.

Using SoftChalk for Students Everywhere

A huge advantage of using SoftChalk Cloud is that it can be updated from anywhere in the world with a decent Internet connection. When I was speaking in Scotland in June of 2017, I was also able to continue to teach three online courses. I could update it from anywhere in different learning management systems (LMS) such as Blackboard, Buzz, Brightspace, Canvas, Jenzabar, Moodle and more.
It integrates seamlessly into the student's school LMS so the student doesn't realize they are looking at content that the instructor provided in SoftChalk Cloud. In most cases, students can easily print out the course materials if they wish to and access them using a computer orsmartphone.
I was an Assistant Dean at New Jersey City University serving what has been designated "The University of Diversity", a beacon for multiculturalism in Jersey City, New Jersey the most diverse city in the United States. After I served as an assistant dean helping to set up the first online courses, I continued to teach online for them for many years and realized how effective the interactive components of SoftChalk Cloud were in helping students from diverse backgrounds.
At NJCU, more than 100 nations are represented among the student body, including dreamers and other newcomers to American soil. The students couldn't stop raving about how the student engagement features helped them prepare for the online quizzes and tests. At my presentation in Scotland, I spoke about how these online courses opened learning to the world community. SoftChalk Cloud also allows colleges and universities to service students who are unable to come to the United States to earn degrees due to immigration restrictions.
I live on the Jersey Shore and back in 2012 Hurricane Sandy devastated New Jersey with over 2 million households losing power. Although my neighborhood was without power for nearly two weeks, I was able to stay in touch with my students using SoftChalk for the courses. We evacuated to Western Pennsylvania until things got better in New Jersey, and this taught me the value of internet connectivity and SoftChalk. I frequently teach from park benches, beach umbrellas, and on our boat at anchor-anywhere where a good internet connection is available.
I really learned the value of using SoftChalk Cloud when I created an online public health class that could be used by any of the 19 community colleges in New Jersey in collaboration with the New Jersey Public Health Training Center and grant from the Robert Wood Johnson Foundation. By making a change in one course, it could take effect in all 19. Although multiple learning management systems were involved, I could easily update them simultaneously through SoftChalk Cloud. This is very helpful when teaching multiple sections of the same course.
This "Godfather of Online Science" believes that SoftChalk Cloud has been a key factor in the success of my online teaching! I highly recommend it to other educators as a key ingredient in building rich online environments that foster student engagement.
Missed Part 1? Go back and read.
---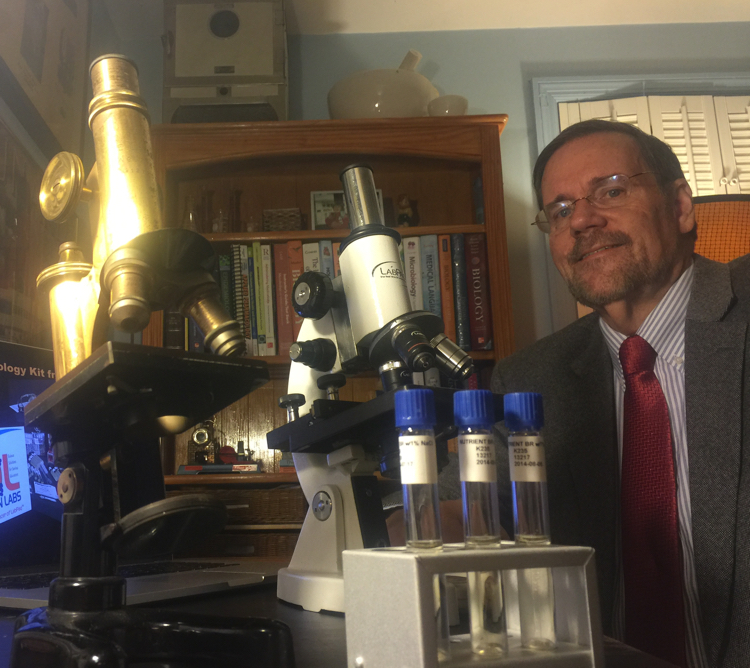 Dr. James Brown is a pioneer in online course development in science. He has been dubbed the "Godfather of Online Science" and recently has been designated One of the Top 40 Innovators in Education by the Center for Digital Education. He received his M.S. and Ph.D. in microbiology from the Waksman Institute of Microbiology at Rutgers University and an additional M.S. in Health Sciences from New Jersey City University. He is a former director of microbiology for Roche and an Assistant Commissioner of Health for New Jersey overseeing the Division of Public Health and Environmental Laboratories. He is a former dean of Science, Engineering, Health Sciences and Human Performance for Ocean County College that became an East-coast powerhouse for online science course development with over 14 unique online science courses.
He is president of James W. Brown Associates LLC which develops online science courses for colleges and universities with a special focus on the pre-nursing science courses of Anatomy and Physiology, Microbiology and Chemistry which are all designed using Hands-On Labs LabPaqs as the foundation for the laboratory experience. He developed the Online Science Laboratory Series for the Sloan Consortium (now named the Online Learning Consortium) in the Spring of 2014 which helps train science faculty and instructional designers in how to develop online courses in science. Dr. Brown currently teaches science totally online at The University of New England, Colorado Christian University, The School of Professional Studies at the City University of New York and Gwynedd Mercy University.
Dr. Brown presented "Opening Online Laboratory Science Courses to the World Community at the International Higher Education Teaching and Learning Conference at the University of the West of Scotland held in Paisley Scotland, June 28 – 30, 2017 and "Placing Prerequisite Nursing Lab Science Courses Totally Online" at the United States Distance Learning 2018 National Conference, Indianapolis IN, May 1, 2018. He has been using SoftChalk to design his online courses since 2003 and has been designated one of our early "Chalkies."