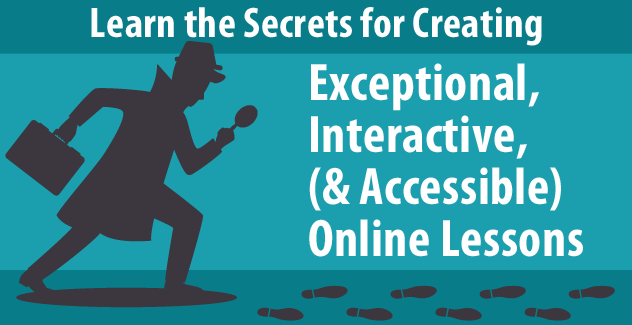 Learn the Secrets for Creating Exceptional, Interactive (and Accessible) Online Lessons

Educators, instructional designers, curriculum specialists: why create an online course that is 'meh' when it's easy to create online lessons that are definitely "NOT MEH!" No matter what discipline you teach or design for, you want your content to be engaging, interactive and professional-looking. It also HAS to be accessible and employ a responsive-design so your content looks great on any device. These are not "nice-to-haves." These are requirements! And you're the one responsible for making it happen! So what is the secret to success?
At SoftChalk our mission is your success. As the industry-leader in online authoring for education, we'd like to share the experience of faculty and technologists at educational institutions around the globe who are using SoftChalk to transform online education at their institutions. We hope their stories will help you learn some helpful 'secrets to their success.'
Here are the highlights of a few of these outstanding educators:
"So You Want to Teach Online: Where Do You Start" is an article in which Laura Howard, a Lecturer in English at Kennesaw State University, shares her experiences in teaching online—from where to start, to making over existing assignments, and establishing your own process.
"Developing an Orientation for First-Time Online Students" by Dena Coots, the Director of Distance Education and Instructional Design at Alvin Community College, describes how she successfully designed a new, streamlined approach for orienting students who were new to online learning courses at her institution.
"OERs: Benefiting Students Educationally & Financially" by Lane Gunnels, Lead Instructor at South Louisiana Community College discusses how he created his own online course materials, eliminating the need for a textbook in his course, which resulted in significant cost savings for his students.
We also invite you to take a look at examples of lessons created by educators like you, using SoftChalk. First up is a lesson that details how to develop meaningful, measurable and observable learning objectives for your online course, based on Quality Matters Standards!
We hope you'll find these resources informative and inspiring!
If you'd like to learn more about SoftChalk and hear about more inspiring online educators, please contact us at learnmore@softchalk.com.
Have a story of your own you'd like to share? Contact me at natalie@softchalk.com!