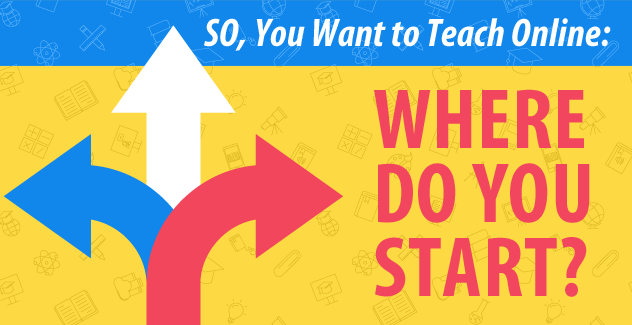 For educators interested in teaching online, the question of where to begin is always at the forefront. There are so many resources available and knowing what the first step is can seem impossible. In this 3-part blog series from Laura Howard, she shares her knowledge and experiences in teaching online from where to start, to making over existing assignments and establishing your own process. This first post focuses on 'Where to Start' and the benefits on teaching online as well as resources you may have available at your institution.

So, You Want to Teach Online: Where Do You Start?

As the online technology coordinator for my department, I often hear: "I might want to teach online in the future, but I'm not ready yet." Or, "I want to teach online, but I don't know where to start."
I understand. I've been teaching online for over 11 years, but I can clearly remember when it was uncharted territory I was nervous to explore. I had many of those same questions myself.
So, how will you know when you're ready? What does "ready" even feel like in the world of online teaching? And how will you know where to begin?
The truth is many of us who teach online now started because we had to, and we did not have much time to decide if we were ready or to think about where we should begin. As more schools offer an increased number of online courses, instructors are often tapped to develop and teach them on a shortened timeline. The good news is that many have gone before us, and, today more than ever, there are content-authoring tools like SoftChalk, which make the whole process much easier and more convenient.
I first encountered SoftChalk in a Build-a-Course Workshop offered by my institution. I loved its ease of use and the visual interest it added to my course. At the time, I was feeling a little overwhelmed learning about all of the options for authoring content. I also do not code. I loved how SoftChalk guided me through the content design process with no coding experience necessary. I appreciated the ability to store content in the SoftChalk Cloud in case I ever needed to load my materials into a different LMS. SoftChalk also provided an easier way to upload content to multiple course sections and to collaborate with colleagues.
One of the beautiful parts of online teaching and learning is that it can be done from anywhere, giving instructors and students the flexibility to travel or even just work in different environments from time to time. Storing content in the SoftChalk Cloud and having it available from anywhere at any time supports the freedom and flexibility of the online teaching format. SoftChalk keeps your content organized and is easily accessible at all times, streamlining the design and teaching process.
So, how will you know when you're ready to design your own courses and teach them online? A first step is recognizing that you want to take your lectures and lessons outside the four-walls of your brick-and-mortar classroom to reach a broader audience online. Through this process, you will learn about yourself: your teaching persona will emerge in the online space just as it did in the f2f classroom space, which is a highlight of the experience for those of us who have been teaching for many years. You will also learn about your students. Online learning appeals to a variety of learners and learning styles, and the experience of building community in a digital space alongside your students can be quite powerful.
Becoming an online instructor can be a fun and exciting time of reinvention. Perhaps gamification appeals to you, or perhaps you're a whiz at producing classroom videos. Who knows? Teaching online is full of surprises and learning new skills. The possibilities are endless, especially with the right tools at your fingertips.
If any of this sounds exciting or interesting to you, then you are ready to get started teaching online! You should begin by identifying online teaching resources at your institution. My institution offers training through the Center for Teaching and Learning and through the Office of Distance Learning. Speak with others at your school who teach online, and find out about their strategies. Explore online tutorials and resources, and look for Open Electronic Resources to incorporate (a good source is MERLOT). Finally, learn about online teaching best practices, and don't forget to consider a content-authoring tool like SoftChalk to streamline the design process and create exciting content to engage your students. Whatever your professional and pedagogical goals may be, online teaching will help shape these in a new ways, positioning you for exciting opportunities in the future.
More posts in the series:…
Doing it Backwards: Making-over Your F2F Assignments
Establishing Your Online Design and Teaching Process

---
Laura Howard, PhD, is a Lecturer in English at Kennesaw State University, near Atlanta, Georgia. She has been teaching hybrid and online courses for more than a decade, and she currently serves as the online technology coordinator for her department, training and supporting English faculty teaching hybrid and online courses. Her areas of interest include composition pedagogy, online writing instruction, professional writing pedagogy, research methods, and social justice. She can be reached at lhowar40@kennesaw.edu.