Written by Richard Smith from Harford Community College eLearning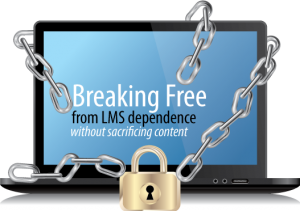 Harford Community College, upon hearing that their long time Learning Management System, WebCT, had become a part of Blackboard, knew that they would be faced with the task of eventually migrating their LMS content.  So in 2011, HCC made the move to Blackboard 9.0. At this time, Blackboard handled all of the migration and things looked great. But upon closer inspection they noticed some problems, both minor and major. As anticipated, things were not as rosy as promised.
After much time spent fixing, plugging, and patching, things were eventually back under control, however this was not an activity that the team at Harford wanted to repeat in the future. They realized that from then on, they needed to become more LMS independent. They identified SoftChalk as being one of the major tools in helping to make this independence happen.
Even during their "reconstruction" phase HCC began to implement SoftChalk to fix some of the most troubled content. They then developed a plan for future course design in which they named SoftChalk their "go-to" system for designing future courses.
Under this plan, new faculty are steered right into using SoftChalk. Experienced faculty, which are often reticent about new technology, also bought in pretty quickly once they saw how quickly and efficiently they were able to make their courses and the new and fresh look their lessons received, all the while still keeping the same ideas intact.
Besides just fixing the problems of the past, HCC also found that SoftChalk eliminated much of the poor design that can be common with online courses. It also enhanced the existing online content and made lessons and activities more interactive for students.
HCC eventually realized that they needed more. They decided to take the next step by becoming users of the SoftChalk Cloud. With a lack of server space and discombobulated content across multiple platforms being a constant issue at their institution, HCC found the SoftChalk Cloud to be a comprehensive solution to their problem. The SoftChalk Cloud also created an easy method for faculty and college staff to share content for use in a more efficient manner.
Stemming from their want and need to become independent from a Learning Management System, HCC has found SoftChalk as a valuable tool in beginning to alleviate some of the problems being faced in online learning.
Join us for an Innovators in Online Learning webinar, where Richard Smith and Gregory Priebe, from Harford Community College eLearning, will share their experiences and show your institution how it can effectively migrate learning management systems and continue to create and implement quality online lessons.
Register Now: Breaking Free of LMS Dependence without Sacrificing Content