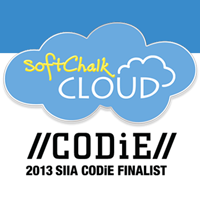 RICHMOND, VA, March 26, 2013 — SoftChalk, LLC, a leading developer of software solutions for e-Learning, today announced that their enterprise platform, SoftChalk Cloud, was named a finalist for the 2013 SIIA Education CODiE Awards for Best Cross-Curricular Solution.
SoftChalk Cloud is a cross-platform learning object repository and content authoring platform that works with virtually any learning management system (LMS).  Designed for educators, instructional designers, and curriculum developers, SoftChalk Cloud provides an easy way to create and manage engaging, media-rich learning content.
The SIIA CODiE Awards are the premier award for the software and information industries, and have been recognizing product excellence for 27 years. This year's program features 23 Education categories, several of which are new or updated to reflect the latest industry trends and business models. Winners will be announced during a special awards dinner at the nation's leading education technology conference, the Ed Tech Industry Summit, in San Francisco on May 6.
"The CODiEs are one of the most prestigious and competitive award programs in the industry. As a two time CODiE winner, we are honored that our newest innovation, SoftChalk Cloud, has been chosen as a finalist this year," said Susan Evans, CEO of SoftChalk.
"We're pleased with the innovative educational technology products that made it to this stage. All of this year's finalists show great promise, and they should be proud of their finalist status," said Karen Billings, vice president of the SIIA Education Division. "I look forward to seeing them all in May at the Ed Tech Industry Summit."
About SIIA
SIIA is the leading association representing the software and digital content industries. SIIA represents approximately 700 member companies worldwide that develop software and digital information content.  Information technology (IT) and software security are critical issues to SIIA's members, many of whom strive to develop safe, secure and state-of the-art products that effectively serve their commercial and government customers alike, while protecting their intellectual property. The SIIA Education Division serves and represents more than 200 member companies that provide software, digital content and other technologies that address educational needs. The Division shapes and supports the industry by providing leadership, advocacy, business development opportunities and critical market information. For more information, visit www.siia.net/education.
About SoftChalk
SoftChalk, LLC is an award-winning provider of eLearning software for worldwide education and business institutions. Specializing in the development of intuitive, easy-to-use tools, SoftChalk products allow instructors to create powerful and professional-looking content for eLearning and smart classrooms in K-12, higher education and corporate training. For more information, visit softchalk.com.