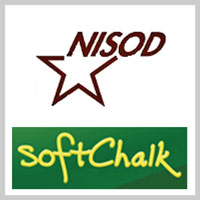 Richmond, Va. – February 14, 2013 – SoftChalk, LLC, award-winning educational technology leader and NIOSD (National Institute for Staff & Organizational Development), today announced their joint sponsorship of the webinar series "Flipped Classroom Success Stories."
NISOD and SoftChalk independently have a long and successful history of using webinars to highlight innovations in teaching and learning. Together the organizations will showcase innovations through webinars made available at no cost to education communities. The first collaborative effort will be a series of four webinars on the Flipped Classroom. The "Flipped Classroom Success Stories" webinar series will showcase four educators that have successfully flipped their classrooms. Their discussions will include why they flipped, comparisons to their classes before they flipped and challenges they encountered. The series will include:
A national grant aligning community colleges with the auto industry to re-train their workers.
A College level public speaking class with emphasis on competency based learning.
A high school level chemistry class highlighting the role of media integration.
Why the flipped classroom works—using Chickering and Gamson's Seven Principles and Bloom's Taxonomy.
More than 400 community colleges around the world are NISOD-members, including almost every large community college district, the majority of urban and technical colleges in the United States and Canada, and more than 200 small, rural colleges around the world. For more information, visit www.nisod.org.
This series will begin at the end of February and continue through April. Anyone interested in attending these webinars can register at https://softchalk.com/learn-more/webinars/innovators.
"Working with NISOD as a sponsor and exhibitor at their annual conference has been an excellent opportunity to participate in an important vehicle for collaboration and communication," says Susan Evans, CEO of SoftChalk. "We are extremely pleased that we will be able to take advantage of the successful webinar series offered by both organizations to enable educators to see the innovative work their colleagues are doing."
Larry Miller, Director of NISOD, states "The faculty and staff at community, technical and junior colleges will really benefit from this webinar series. The Flipped Classroom concept is a very hot topic right now. We are delighted to work with our partner SoftChalk to make this series available."
About SoftChalk, LLC
SoftChalk, LLC is an award-winning provider of e-Learning software for worldwide education and business institutions. Specializing in the development of intuitive, easy-to-use products which allow instructors to create, manage and share powerful and professional-looking content for e-Learning, Flipped and Smart classrooms in K-12, higher education and corporate training. For more information, visit softchalk.com.
About NISOD
Since 1978, the National Institute for Staff & Organizational Development (NISOD) has been dedicated to the professional development of faculty, administrators and staff at two-year institutions and to the continued improvement of teaching and learning, with the ultimate goal of student success.