The Face2Face, Blended and Online Learning webinar series is officially underway. We kicked things off last Friday with the first session (now available on our archive page) and we have another great session lined up this week. Dr. Trish Ritshcel-Trifilo, Distance Learning Specialist at Wayland Baptist University, will be one of the presenters, and she has a thought provoking guest post to share with us today. After reading the blog post, don't forget to register for the second webinar on Friday, September 14 – Online Teaching F2F, Blended & Online – Week Two: Institutional Concerns.
In the past two years Institutions of Higher Ed who utilize distance components in their teaching and degree programs have been chasing their tail to try to understand and meet requirements for State Authorization. In October of 2010 the Department of Education (DOE) struck a blow to distance education when it mandated that Universities must authorize in every state where they have a presence.  Non-compliance came with large penalties. State Authorization laws have been on the books for a long time so authorization is not something new; rather it is something brought to light by the DOE. Unfortunately, most states were not aware they had the law, some did not understand their laws, and most had no manpower to adequately manage the paperwork or enforce the law.
As the Director of an up and coming online program for a small private university (Hardin Simmons University) this created many concerns and headaches.  Each state had a different set of rules, different definitions of "presence", and costs to file ranged from 0 to tens of thousands of dollars per state. Do we deny a student access to an online course because they live in a state where the cost of authorization is $25,000? Well, yeah we do. What if this is a one time – one semester occurrence? How do we know where these students really are living at the time of the class?  What about military students? Do we go by home state or current assignment? How do student practicums fit into the mix? Hundreds of questions and concerns came to the forefront.
Through various court proceedings we have finally arrived at a new questionable state. On July 31st 2012 the DOE quietly reversed its position saying it will no longer enforce a requirement that distance education programs obtain authorization in every state in which they enroll at least one student. – Whew!  But wait….  The laws still exist, and states are still likely to enforce authorization laws if they have the manpower, especially those who see major dollar signs.  What is a university to do? Do you claim to operate in ignorance of student location? Do you worry about it if you just have a handful of students in a state? Where is the dividing line?  What of integrity and lawfulness? How do universities deal with the expense in dollars and manpower hours to follow the law?
And, has anyone seriously considered the service to the student in all of this? In this day of global learning are we really opening the doors of opportunity by denying someone access to a course because they live in the "wrong" state for our university? Online education is about accessibility to knowledge, learning opportunities, and ease of learning. My online students, through course design, can interact with experts in the field anywhere in the world. They can interact with students from other locations who have different perspectives and experiences. They become enriched. We need to learn how to integrate global learning with the cost of education, accessibility, protection of students' rights, and the integrity of university programs. State authorization has some purpose in this.
Distance Education is complex with many components leading to excellence. First and foremost we must focus on the student, the consumer, the reason for any of this existence. Remember it's the student we serve, the student who needs the knowledge to take us into the future. Let's not get bogged down by archaic laws or greed. The DOE/State Authorization fiasco has put our united efforts in distance education into disarray forcing choices based strictly on dollars and amount of paperwork. State authorization has a purpose but should be a simple, inexpensive process for the benefit of the student, that Global Learner.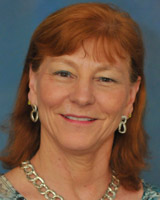 Tricia Ritschel-Trifilo has 34 years of experience in teaching face to face, including 17 online. She holds degrees in Biology, Anatomy, Neuroanatomy, and Education with a specialty in Instructional Design for Online Learning. Her research interests are in learning styles and brain pathways. An Air Force spouse, Trish has taught around the world. She recently left Hardin Simmons University to become the Distance Learning Specialist for Wayland Baptist University. She sits on the board of Texas Distance Learning Association, is the chair of education for the Texas Academy of Science, and is President of the Texas Blackboard Users Group (TBUG). She is a SoftChalk master presenter in their Innovator series.