From Sue Evans, Co-Founder and CEO
The widespread use of Learning Management Systems (LMS), has led the transformation of course materials from print to digital. Unfortunately, digital content delivered in the LMS isn't always more rich or engaging than print materials — think PDF files, Word Docs and PowerPoints. Plus, the typical online course today is still designed and published for use as a single course, which means it isn't easy to re-use or repurpose the content in multiple courses or contexts.
But digital learning content is continuing to evolve, and the Next Generation promises to be more rich, dynamic and engaging than its ancestors. I think now is the time for educators to begin transitioning to "next gen" learning content. And here's why…
Today's students are demanding more interactive and engaging content that provides them with a dynamic learning experience. Next gen content is more robust and interactive by design, rich with media and based on sound instructional design. It enables easier creation, management and reuse of content because it is:
Granular, consisting of small chunks that can be adapted and deployed in a variety of formats and contexts.
Engaging and modifiable, supporting personalization of content, and providing detailed results tracking — all of which results in more effective learning for students.
Portable and reusable, with a life independent of how it is organized, sequenced, and delivered in a particular context.
Searchable — carefully categorized and cataloged to make it easy to find.
This type of content empowers educators, encouraging them to collaborate and innovate. Plus, next gen content provides educators with greater control over the organization and delivery of learning materials.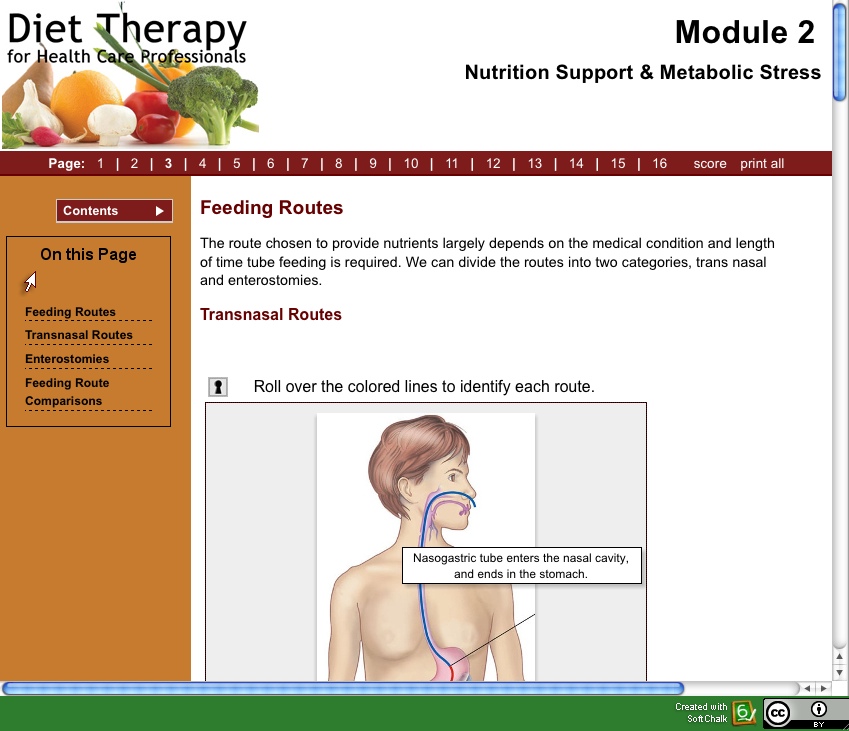 Nutrition Support Metabolic Stress lesson created by Kristin Bartholomew of Valencia Community College.
Most importantly, next gen content engages students meaningfully and effectively. Researchers at Concordia University in Montreal carried out a meta-analysis of hundreds of studies in which distance education students were engaged in three types of interaction: student–content, student–student and student–teacher. The studies were analyzed to determine which type of interaction made the greatest difference to student performance.
The results were clear: increasing student–content interaction had the greatest effect (Bernard, R.M., P.C Abrami, E . Borokhovski, C.A.Wade, R.Tamim, et al. 2009). That is, learners' interaction with content made the most significant impact on their performance.
With ever improving content creation and sharing tools, it is becoming easier and easier to make that sort of impact on student performance. We are moving towards a world where textbooks are not the default educational content, freeing educators to choose exactly the type of content that addresses specific pedagogies, standards and student needs.
Are you using "next gen" content in your course?  Please share your experience in using more engaging, interactive content to support more effective student learning in the online classroom.