From the Support Center: ScoreCenter is Here
Posted February 10, 2011 in SoftChalk News
Blackboard 9.0 and 9.1 Users …

Would you like to get more detailed scoring information from students who take your online courses that include SoftChalk lessons? Would you like the options for collecting the scores based on the first attempt, average of all the scores, the most recent score or the highest score? Would you like to have these scores go directly into the Blackboard grade center?
SoftChalk's ScoreCenter feature provides you with all these options! You have the ability to publish your lesson within SoftChalk in the ScoreCenter format directly to Blackboard. This feature is available through an update to SoftChalk 6. (When you start SoftChalk 6, if there is an update available, you should be notified. Within SoftChalk, you can also choose Help/Check for Updates.)
You can find details on using the ScoreCenter in the SoftChalk Blackboard 9.0 and 9.1 Integration Guide.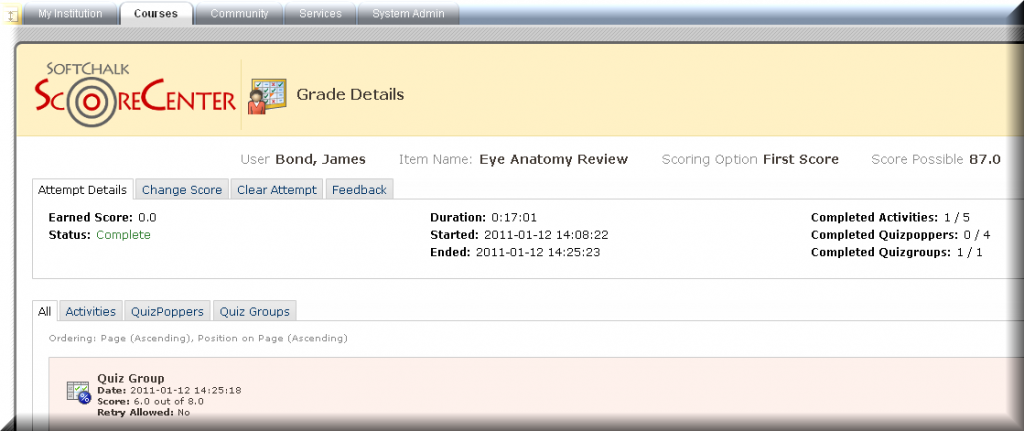 We now recommend that you use the ScoreCenter method of collecting scores from your students rather than the SCORM format.
Below are the basic steps on using ScoreCenter.
Your Blackboard administrator will need to install an updated SoftChalk Building Block and other information.
Once the building block is installed, you will need to get a new access code for your course and set up your server information (typically a 2 minute process). Details will be explained in the SoftChalk Blackboard 9.0 and 9.1 Integration Guide.
Within your SoftChalk lesson, choose File/Publish Lesson/Publish tab. Connect to your server.
Select your course and the folder within your course where you want to publish your lesson.
For the format, choose ScoreCenter. (Choose this option rather than SCORM 2004). If this option is disabled, please contact your Blackboard administrator to install the updated SoftChalk Building Block and other information.)
Notice your options. You can set the number of attempts allowed for your students to access the lesson. You can also set the scoring option that will determine what score appears in the Blackboard Grade Center: First score, Average score, Most Recent score or Highest score.
After selecting your options, you can publish your lesson to Blackboard.
Once your students complete your lesson in Blackboard, you can view your scores within the ScoreCenter area of the Blackboard Grade Center. (Again, you will be able to view details in the SoftChalk Blackboard 9.0 and 9.1 Integration Guide.)
To learn more, please sign up for a webinar on ScoreCenter.
18 Responses