What's UP in SoftChalk Cloud?
New SoftChalk Cloud Features Available NOW
Current SoftChalk Cloud User? Your account has already been upgraded to include these new features!
All SoftChalk Activities are Now Mobile Friendly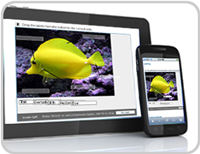 Enhanced Support for Mobile Delivery
All of SoftChalk's "Flash" Activities are now available in mobile-friendly HTML/Javascript versions that work great with iPads, Androids and many smart phones. This includes Crossword Puzzles, Hot Spot Images, DragNDrop Matching, Interactive Timeline… all of them!
SoftChalk's Smart Mobile technology uses "browser detection" to display the version of the activity best-suited to that browser. This means that learners using older web browsers that don't support newer technologies will automatically view the old "Flash" activities, while learners using newer browsers and mobile devices will automatically view the new mobile-friendly versions. The end result—seamless delivery of SoftChalk content to all users, no matter their device or browser.
You'll also notice new color style enhancements in all SoftChalk mobile lesson pages.
Expanded LMS Integration
SoftChalk plays well with everyone!
Thanks to SoftChalk Cloud's Learning Tools Interoperability (LTI) feature, SoftChalk Cloud supports integration with more Learning Management Systems (LMSs) than ever before. SoftChalk Cloud's LTI integration is now available for Blackboard, ANGEL, Moodle, Canvas, Desire2Learn, Jenzabar eLearning and BrainHoney. For students, the SoftChalk Cloud content is seamlessly presented in their LMS. When students access the content, their scores are tracked by SoftChalk Cloud and score results are passed directly into the LMS gradebook.
Accessible Learning Content Enhancements
New features to help reach all learners
New Keyboard Accessibility features have been added to most of SoftChalk's interactive activities. This allows keyboard-only learners to more easily navigate SoftChalk content.
New MathML functionality ensures that when math equations are used in a SoftChalk lesson, screenreader software can "read" the equation.
Learners can view text descriptions of audio and video content, as well as content presented using iframes and widgets.
Cloud Enhancements
It's faster and easier than ever to create, manage and share your learning content
When creating/editing content, save directly to any Cloud folder (even shared folders).
Edit multiple lessons without having to close and reopen the authoring program.
When inserting items from the Cloud into a lesson, the window stays open to allow multiple inserts.
When viewing lists of Cloud files and lessons, the display order is the same within the authoring program as when viewed directly on the Cloud.
Media Search Enhancements
New Repositories and features
The Learning Registry is now searchable from SoftChalk's Media Search tool, providing easy access to thousands of digital learning resources including the National Archives, The Library of Congress and PBS Learning Media. Learn more about the Learning Registry at www.learningregistry.org.
When inserting images found in Media Search, the "alt" tag is automatically populated with the image title and the "longdesc" is populated with the image "title and description."
Activities and Quiz Groups found in Media Search can be inserted into a lesson as an editable copy of the object.
URL links found in Media Search can be inserted in a lesson as a link or embedded as an iframe.
Content Authoring Enhancements
New Features available in SoftChalk Create
eCourseBuilder is now available in the Cloud
Frame border and scrolling options are now available when inserting iframes
QuizPool Import and export functions are now available in the Cloud
Quiz Groups can be saved to and imported from the Cloud into a lesson
User-entered text display options are now available for Quiz Groups and Activities