SoftChalk Lesson Challenge
(Submissions NOW CLOSED)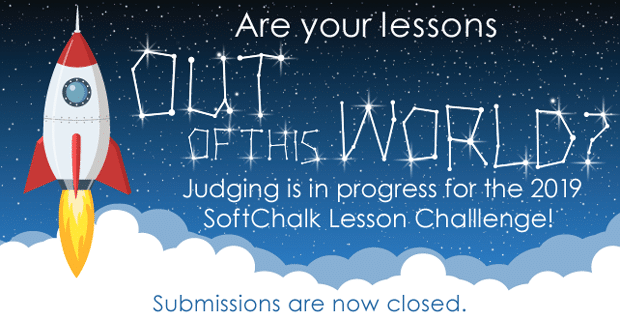 2019 SoftChalk Lesson Challenge
The SoftChalk Lesson Challenge is our way of recognizing YOU, the educators, trainers and content authors, for creating remarkable lessons using our product. A judging panel comprised of educators from all across the nation, will score the lessons based on a unique subset of the Quality Matters judging rubric. Lessons are judged on specific categories including, but not limited to:
Creativity
Professionalism
Interactivity
Reinforcement of student learning
Submissions are now CLOSED!
Winners and honorable mentions will be announced on May 13, 2019.
For more details check out our 2019 SoftChalk Lesson Challenge information page.
Spread the word and let the universe know that the 2019 SoftChalk Lesson Challenge is going on now! Use the hashtag #SCLC2019.
For some inspiration take a look at the winners from our past challenges:
Winners from Previous Years:
2018 Lesson Challenge
2017 Lesson Challenge
2016 Lesson Challenge