Learn More
Are you ready to see SoftChalk in action?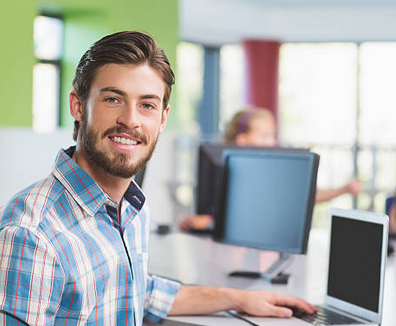 We invite you to learn more about how SoftChalk Cloud can help you create exciting, interactive lessons. Sign up for an Introductory Webinar for an overview of SoftChalk Cloud. Or, attend an Innovators in Online Learning session to hear how current customers are using SoftChalk in new and exciting ways. Or, request a personalized demo for your team today.
If you're considering purchasing SoftChalk, our "Introduction to SoftChalk Cloud" webinar is for you! You'll learn how our content authoring platform can help you create, manage and share engaging content and be able to ask any questions you have about our products. We also offer a series of "LMS Integration" webinars to show you how you can create inspiring learning experiences for your students using SoftChalk Cloud, then easily and seamlessly place your content into your LMS. Sign up for one of these webinars today!

This series highlights educators who are using SoftChalk in innovative ways. These webinars are great for current customers who are looking for new and exciting ways to utilize SoftChalk!

A full list of upcoming webinars.
Schedule a private webinar to meet your specific needs.
Read about SoftChalk users who have done extraordinary work in the eLearning environment with SoftChalk.