Prior to working in education, my career was focused on clinical practice as a physical therapist. I took a full-time faculty position in a physical therapist assistant program as an instructor and the Academic Coordinator of Clinical Education. I also enrolled in and completed a Master's program in Adult Education and a Doctor of Physical Therapy program. Through my graduate studies and my own teaching experiences, I became very interested in online learning."
Lisa Harrell, Online Educator
When it comes to preparing online courses, as well as introductory tutorials to supplement course content, SoftChalk is online educator Lisa Harrell's first choice. Lisa first began offering blended components in some of her traditional courses and found that students loved the interactivity that the online component offered. She then began to pursue opportunities to develop and teach fully online courses. Her success in online education led to a full-time career as an online instructor and course developer working for several higher-learning institutions across the country, based out of her home.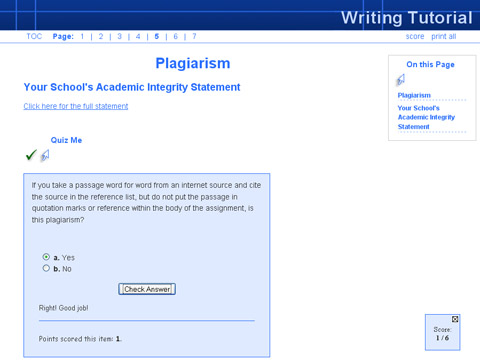 Students enter the e-learning environment with varying degrees of technological experience. Students may not be familiar with the expectations and guidelines of online course participation. It was clear to Lisa that it would be beneficial to use SoftChalk to create supplemental tutorials that would promote student success in the course and in online learning in general.
Lisa began using SoftChalk to develop course navigational tutorials to help students become acclimated to the course. Lisa has also developed additional tutorials to help students with specific tasks such as writing, participating in online discussions and others. One example of how the features in SoftChalk can be used in a course navigation tutorial is to incorporate screenshots of the course homepage and/or navigational videos. Text poppers can be used to show the student what type of information can be found under each navigational button on the page. This information can be reinforced through activities like "drag-n-drop" where the student must drag a descriptor, such as "assignment due dates are listed here" and drop it over the appropriate button or link, such as "Course Schedule."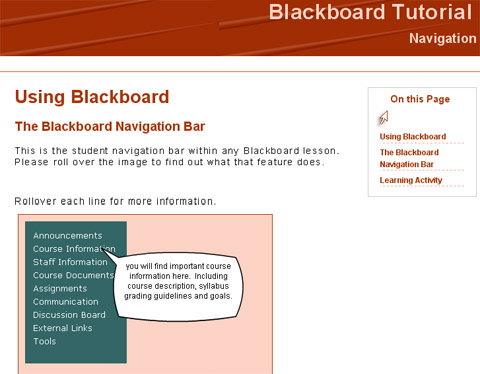 Tutorials could also utilize features and activities such as flashcards, image labeling, image hotspots, crossword puzzles, matching games, and quizzes for student self-assessment. Tutorials could also contain embedded PowerPoint® presentations and audio. SoftChalk makes it easy to engage the student through embedded graphics and examples, as well as links to outside sources such as online resources.
Supplemental course tutorials have become an effective means of addressing various online learning issues while helping to provide the student with the tools needed to be successful. Using supplemental tutorials can result in increased participation, increased accountability and increased retention for students. Supplemental tutorials can also improve an instructor's ability to manage online courses and online learning resources.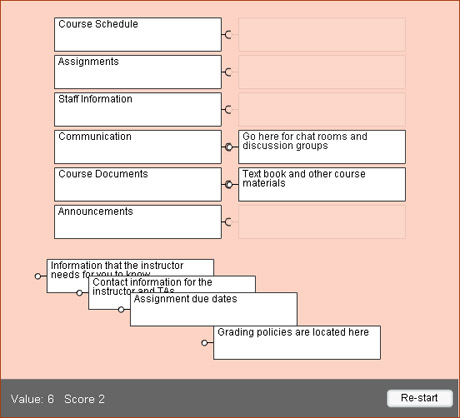 SoftChalk has played an important role in Lisa's success. Lessons can be easily used across multiple Learning Management Systems. The coursework and tutorials that Lisa develops with SoftChalk easily meet the online course standards of the institutions for which she is developing curriculum. As Lisa continues to expand her repertoire of online courses and tutorials, she will look to SoftChalk to help her meet challenges and produce the excellent results for which she has come to be known.