Case Studies
Duke University TIP –
Since 1980, the Duke University Talent Identification Program (Duke TIP) has identified and nurtured academically gifted students grades four through 12, serving more than two million students through residential experiences, advanced test-taking opportunities, online courses, and independent study materials. Today, Duke TIP uses SoftChalk extensively in the development of independent study curriculum and online courses, harnessing an interactive, online format that appeals to gifted students in a variety of environments including regular classrooms, resource settings, home schooling and personal enrichment.
Instructors in the e-Studies program use SoftChalk to present their content in interactive and visually engaging ways via the Blackboard Learning Management System, and curriculum developers creating Learn on Your Own materials use SoftChalk to create interactive and student-friendly independent study CD-ROM courses. The leaders and developers of TIP are not technologists; they are teachers, which is another reason why SoftChalk was an ideal choice for them. The easy to use interface and built-in style templates make it easy to create professional results quickly.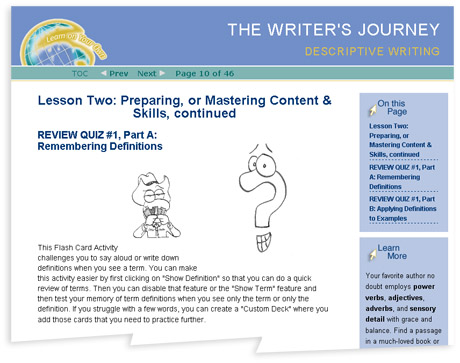 SoftChalk helps to make both online and CD-ROM courses self-paced by integrating practice, reinforcement, and problem solving features into the curriculum. The direct feedback that is provided through SoftChalk is extremely important to the learning process. In fact, Duke TIP found that interactive learning enables more diverse learning styles, an important factor when designing curriculum for non-traditional learning environments.
While initial efforts utilized SoftChalk primarily in the development of CD-ROM Enrichment courses, plans are quickly moving forward to convert the Learn On Your Own workbooks into an interactive online/CD format, as well. In addition to enhanced learning, switching from a printed workbook to an electronic format greatly reduces printing costs, and allows course developers to more quickly and easily integrate up-to-date curriculum changes and enhancements.
Along with the instructor-paced e-Studies courses that they already offer, Duke TIP does have plans in the works to offer self-paced online courses. Because SoftChalk so easily integrates with Duke's Blackboard Learning Management System, it will be easy to customize course content and make it available on a self-paced, just-in-time basis.
SoftChalk lets us present our elementary and secondary curriculum for the gifted in an engaging, kid-friendly way. The textpoppers, sidebars, hyperlinks, activities, and colorful template arrangements expand our content in myriad ways, allowing us to provide rigorous material while making it lively and age-appropriate."
Lyn Hawks, Coordinator of Independent Learning, Duke University Talent Identification Program

The partnership between Duke TIP and SoftChalk includes co-development of a new feature, eCourseBuilder, which will support and integrate multiple lessons created with SoftChalk. Previously SoftChalk worked with Duke TIP on the Table of Content capabilities; when TIP made it clear that this feature was critical, SoftChalk made it their priority to include it in their next major software release.
Forging partnerships with leaders in the e-learning field is one of SoftChalk's most important assets. It has helped to keep them at the forefront of this emerging technology, and has resulted in a product that promises to evolve to fit the needs of educators today, as well as tomorrow.
---
About Duke University TIP
Since 1980, the Duke Talent Identification Program (Duke TIP) has been a world leader in identifying academically talented students and providing innovative programs to support the development of their optimal potential. Often schools do not have the resources and staff to adequately provide for the academic challenges and social and emotional support that gifted children require. Through Duke TIP a whole range of activities and programs are accessible to parents and teachers to meet the individual needs of gifted children.
← Return to all Case Studies