As a state agency, the Texas Workforce Commission must ensure its 3,000+ employees and contractors comply with 508 accessibility requirements. With people and offices spread across 28 regions of the state, the Commission needed a user-friendly solution, especially for those locations without access to the intranet system that houses their online training. They had used PowerPoint in the past to develop coursework, and while it was visually appealing, it was not interactive and took valuable time to develop, especially if the courses included a large number of images.
On the hunt for more accommodating software, the Commission discovered SoftChalk at a learning conference and found that it met their most important criteria: 1. Flexible. SoftChalk allows for tremendous creativity and innovation, even for users with little or no HTML experience. 2. Budget-friendly. The Commission was able to buy SoftChalk licenses at a significantly lower cost than their previous software solutions. 3. User-friendly. From both the developers' and the students' perspectives, SoftChalk is easy to learn and use.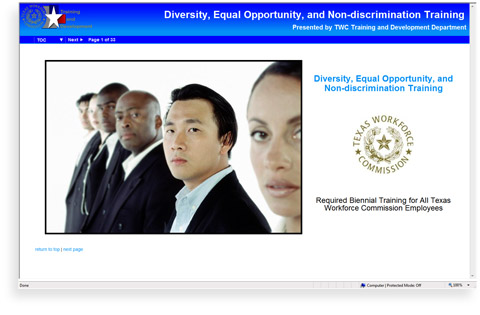 An added bonus is the positive feedback the Commission has received from its employee users compared to the previous software. In fact, prior to switching to SoftChalk, the Commission received a wide range of calls about technical issues; since the conversion, those numbers have dropped significantly. The Commission is also pleased with SoftChalk's customer service, which it says responds quickly and completely to questions that arise.
Unlike our old software, which required a week's worth of training, SoftChalk is incredibly easy. The first day I downloaded the demo off the Internet I was developing my courses. It's as simple as using Word™ or PowerPoint™."
Houston Hill, Texas Workforce Commission
In addition, SoftChalk provided a solution to the Commission's varied locations and operating platforms with its CD packaging option which provides the same components as its online training modules in the convenient format of a CD. Because SoftChalk works seamlessly with both Windows and Macintosh operating systems, Hill noted that, "It's just a matter of loading the CD and people can begin working immediately." SoftChalk also integrated perfectly with the SCORM-based National Workforce Institute Learning Management System used by some of the Commission's larger offices.
The Commission credits SoftChalk with bringing them the right solution at the right price and continues to recommend SoftChalk to others. According to Hill, "I've recommended it as a userfriendly, creative program that has benefited us in a number of ways, especially in terms of budget. And when you're dealing with state agencies, budget is a very big deal."