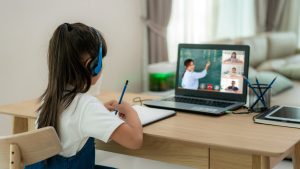 In 2011, Clark County School District (CCSD), the 5th largest school district in the country, set a goal of having one third of their 320,000 students in an online or blended learning environment by the 2015 year. This included both high school and middle school students.
One critical problem—they didn't have an online middle school curriculum.
Their solution? Develop their own fully-online courses and course materials.
Since that time, CCSD's Innovative Learning Environments Division has curated a full catalog of middle school and high school online courses. Schools and teachers use this curriculum at no cost to the individual schools, saving the district millions of dollars compared to paying outside vendors for a product that may not align directly with CCSD and Nevada State Content Standards.
CCSD not only met their goal of  having 100,000 students in an online environment by 2015, they exceeded it!
So… how did they do it? We want to show you.
In this webinar, Michelle Truman, Curriculum Design Coordinator at CCSD, details their online curriculum development process. She describes:
The integrated technology they use (Google for Education, SoftChalk, Canvas LMS),
The makeup of their curriculum design team (including SMEs (Subject Matter Experts), Reviewers, and Project Coordinators
The design process they use including Content Standards, Schemas, Modules, and Lessons templates
The quality review process they follow… and more!
Find Michelle M. Truman's PowerPoint presentation as well as a list of handouts from her presentation that you are free to view and download for your own curriculum building.