Get off-the-ground in 2016!

Discover how you can get your digital curriculum off-the-ground FAST with SoftChalk Cloud!
Quickly and easily make the transition to a digital curriculum by combining existing learning materials with rich media, interactive activities, quizzes, text and more.
Increase student engagement and improve learning outcomes by creating more engaging and interactive learning content to make learning fun.
Improve course quality by developing digital content that has a professional appearance, meets accessibility standards, and promotes student interaction and feedback.
Create content that is unique, specific and portable. Content created with SoftChalk Cloud works with any learning environment, which ensures that the time and effort spent creating quality digital content will never be wasted, nor content "lost" when changes to the online learning environment inevitably occur.
Create once, deliver anywhere! With SoftChalk Cloud, you can create your content once and deliver it to numerous courses through any learning management system. If you need to update content, simply update it in the Cloud and all of your courses are updated simultaneously.
Contact us today and we will work with you to design a program that meets the specific needs of your institution.
SoftChalk Cloud
SoftChalk Cloud, our award-winning digital content authoring solution includes:
Award-winning content authoring solution
Powerful Learning Management System integration
Sophisticated student score results tracking
Access to thousands of free learning resources that can be copied, revised and repurposed using SoftChalk Share our Open Educational Resource Learning Object Repository.
Benefits of using SoftChalk Cloud:

At the heart of SoftChalk Cloud is Create, our award winning content authoring solution that gives you access to countless tools and resources to create-your-own digital curriculum.
Each lesson you create and store in SoftChalk Cloud has an associated URL. You simply link the lessons you create into your Learning Management System courses, a class webpage or simply share the URL with students via email.
A single SoftChalk Cloud lesson can be linked into multiple courses and multiple LMSs—simultaneously. Then, when it's time to update your course, you simply modify the lesson in SoftChalk Cloud and every course in every instance of that lesson is updated with one click! One lesson—One update—One click. Very fast and efficient course content management.
SoftChalk Cloud enables sophisticated, tracking of detailed student score results from SoftChalk content. Score data from SoftChalk Cloud lessons is passed directly into your LMS's course gradebook.
SoftChalk Cloud is available for individual educators or teams of educators. Learn more.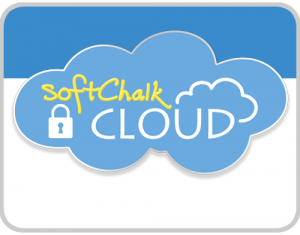 Private SoftChalk Cloud
Private SoftChalk Cloud is a privately-branded instance of SoftChalk Cloud, designed specifically for colleges and universities that wish to quickly and easily establish an their own learning object repository (LOR) where they can control and limit access to their SoftChalk learning content.
Benefits of using Private SoftChalk Cloud at your institution: 
Combines powerful content authoring and a dynamic learning object repository into one cloud-based solution that lets you manage both users and content.
Supports true team-based content creation and sharing.
Authorized instructors can create and organize content. Then they, their colleagues, specific groups, or the entire institution can share, reuse, and repurpose that content.
Completely customizable to fit your needs—and to work seamlessly with your brand so it's unique to your institution.
You can have your Private SoftChalk Cloud up and running in just a few weeks.
Visit our Private SoftChalk Cloud page for details.