Download these free infographics to learn how to create and manage your school's digital curriculum!  
| | | |
| --- | --- | --- |
| 5 Tips on Accelerating a Digital Curriculum at your School | Create, Manage & Share your own Digital Curriculum  | Advantages of Creating Your Own Digital Curriculum  |
| | | |
Create-Your-Own Digital Curriculum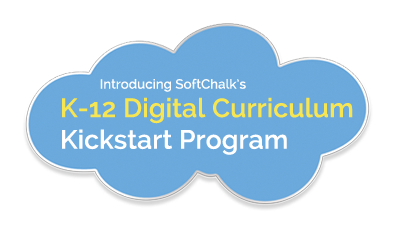 When you invest in your school's digital curriculum, you need more than a one-size-fits-all solution. After all, your kids and your school are unique. You need to provide real world learning experiences that are targeted and personalized for them. SoftChalk's K-12 Digital Curriculum Kickstart Program will help you unleash the collective brain power of your teachers by enabling them to create, modify and deliver the interactive, engaging digital experiences that your students are looking for.
This comprehensive program will provide your district with the fastest, easiest, most flexible way for your teachers (and students) to create and deliver their own professional-quality, interactive, engaging, digital learning experiences. 

… the design of SoftChalk is intuitive, very well thought out, and respectful of the busy life of a teacher. You have thought of so much already and I can't wait to see the product continue to evolve and anticipate our every move.
Top 5 Benefits for your School District…
The Kickstart Program provides the critical platform and services your district needs to develop a successful, vibrant digital curriculum. Just add your innovative, talented teachers and you're on your way! Benefits include:
Develop more affordable eLearning programs―Create-Your-Own digital curriculum, as opposed to purchasing expensive, pre-made content from third parties that your teachers are locked into and can't modify. Save time and money by switching from outdated textbooks to a product that allows your district to create, manage and deliver content your students quickly and easily.
Increase student engagement and improve learning outcomes by creating more engaging and interactive learning content that makes learning fun. Give your teachers the tools they need to provide the right content to the right student at the right time.
Quickly and easily make the transition to online course delivery by combining existing learning materials with rich media, interactive activities, quizzes, text and more. Engaging the students in digital learning easy. Preparing your teachers to teach online is the challenge. SoftChalk is extremely easy to use, requiring no HTML or coding experience. Teachers can typically develop lessons after only a few hours of orientation. We make it extremely easy to c

reate your own Digital Curriculum in less than two months'.  

Improve online course quality by developing digital content that has a professional appearance, meets accessibility standards and promotes student interaction and feedback.
Create content that is modular, reusable, and works with any LMS. Content created with SoftChalk is interoperable with almost any learning environment, which ensures that the time and effort spent creating quality eLearning content will never be wasted, nor content "lost" when changes to the online learning environment inevitably occur.
Discover how you can get your digital curriculum off-the-ground fast!
Contact us today at k12kickstart@softchalk.com and we will work with you to design a program to meet the specific needs of your school district!