SoftChalk eBooks
Create-Your-Own Interactive eBooks

SoftChalk Cloud gives YOU the power to create and distribute your own INTERACTIVE eBooks!
Redefining the eBook
eBooks have typically been limited to static text and images—but no longer! SoftChalk Cloud has redefined the eBook by making it possible for educators, like you, to create-your-own eBooks that are truly engaging, interactive learning experiences for your students!

What is a SoftChalk eBook?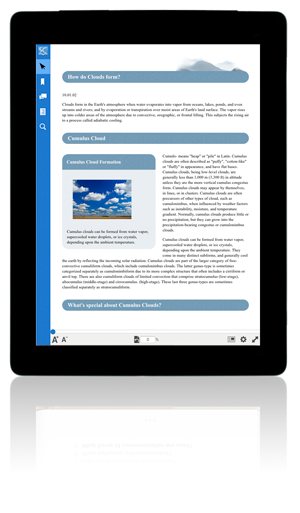 In addition to publishing fully HTML5 compliant lesson content for viewing in browsers, you can package your SoftChalk Cloud lessons as interactive eBooks for distribution to your students. To view your eBooks, students just download our free SoftChalk eReader app, available in the iOS, Android, Chrome and Windows app stores.
Top 5 Reasons for creating SoftChalk eBooks for your lessons:

INTERACTIVITY – Not only can you create your own eBooks—you can make them interactive! You can include interactive activities, videos, audio and other features including quiz questions, which provide feedback for your students.
Multi-platform Authoring and Viewing – You can create your eBooks on either Mac or PC platforms and your students can view your eBooks on any devise using our free SoftChalk eReader. In comparison, if you use iBook Author, you can only create and view your content on the Mac platform.
Offline Lesson Access – Your students can download your eBook lessons to their devices. Then, if they're studying from home… or anywhere and do not have an Internet connection, they can still access the eBook content. In addition, your students retain access to their course materials, even after the course is over.
Distribute Anywhere – How great is that! Again, in comparison, if you create an iBook with iBook Author on a Mac, then you have to distribute it through iTunes University. This can be a cumbersome process and, if accepted, your iBook is only viewable on a Mac. So you're more restricted in how you can make your iBook available to your students. With SoftChalk, once you create your eBook, you can provide the link to the eBook—on your school's file server or web server, in your learning management system, or you can distribute it right from SoftChalk Cloud. You're not limited in how you can distribute your eBooks to students. So students can essentially access them from anywhere!
eReader Feature Support – Our SoftChalk eReader App allows students to highlight text, add bookmarks, add personal notes to your lessons and access a built-in dictionary.
How do you get started?
Creating an eBook is easy with SoftChalk Cloud. You just create your lesson click on the eBook icon for your lesson on your "My Content", "Lessons" page. When publishing your eBook you will be asked to provide a title for your book, your name (as author), language, chapter format and the location where you would like to publish your eBook. You can even design and upload a custom cover design for your eBook if you like! Your eBook is then packaged into a SoftChalk eBook ready for distribution to your students!
For information on creating eBooks from SoftChalk Cloud lessons, see our SoftChalk Cloud Guide.
For information about using the SoftChalk eReader, see our eReader Download & Help page.
Save