SoftChalk Create
If you can use a word processor, you can create powerful interactive e-learning experiences!
Basic text editing
SoftChalk Create opens with a blank document displayed. Simply click your cursor in the editing window and begin typing—just as if you were using your favorite word processing program. You may also copy and paste formatted text from Microsoft® Word, html documents, web pages, or other content authoring tools into SoftChalk Create, and the formatting is preserved! You will find most of the standard text editing features in SoftChalk Create, including font and type size selection, as well as support for styling, color, bullets and tables. You can also easily create hyperlinks to web pages, documents or other lessons.
Media search
The Media Search tool allows you to create your own, personal media "clipart" collection within SoftChalk Create with thousands of media resources available to you at the click of the mouse. You can perform keyword searches across multiple media repositories at one time to locate images, videos, audio, text, animations and more to support your lesson content. After completing your search, you can insert an item directly into your lesson and/or save the item(s) in your SoftChalk Create library (desktop version) or in your Content area in SoftChalk Cloud for later use.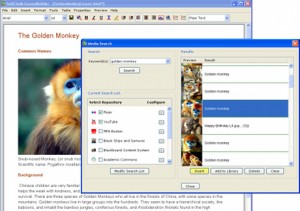 Learn more about the Media Repositories available within SoftChalk Create's Media Search tool.
Lesson preview
At any time while you are editing a lesson, you may use the "preview" feature to see how the lesson will look to students in their web browser. Simply click the Preview Button, and SoftChalk Create displays the lesson in your default web browser. If you have applied a "style" to your lesson, you can use Preview to see the results of your style selections in a web browser.
Navigation
SoftChalk Create automatically creates page navigation between lesson pages. You may choose from a variety of navigation, layout, and Table-of-Contents options.
Equation editor
SoftChalk Create's Equation Editor lets you insert math characters and equations. Equations can be saved to the Library for repeated use in activities and other lessons.
Package and publish lessons
Share your e-learning content with students and colleagues via CD-ROM, the Internet, your Learning Management System, SoftChalk Cloud and other learning object repositories. Your content has never been more portable.
SoftChalk Create (desktop version) offers one-button publishing for Blackboard™, Sakai™, MERLOT™, SoftChalk Cloud and other learning/content management systems. A variety of packaging options are available for sharing your lessons including SoftChalk ScoreCenter format, CD-ROM format, Executable Lesson format for PC and Macintosh platforms, and IMS™ Common Cartridge format.
Library
In SoftChalk Create (desktop version), you can build your own personal library to save images, Media Search items, equations, QuizPoppers, Quiz Groups and activities for re-use in the same lesson or in a different lesson. You can save SoftChalk Learning Objects to your library and you can share library items with others by exporting and importing library items and folders or by publishing activities to the SoftChalk Cloud learning object repository.
eCourseBuilder
The eCourse Builder tool lets you assemble multiple lessons into one "eCourse." A table of contents is created to navigate between the assembled lessons and score information can be set to calculate the students' score for the entire course. When you create an eCourse, a single style is automatically applied to all lessons in the course to insure design consistency within the course. SoftChalk eCourses can be packaged as a standard zip file or in IMS™ Common Cartridge format for publishing to an LMS, for CD-ROM, or can be published to SoftChalk Cloud. Automatic calculation and tracking of score information is available between and within lessons.
Print friendly HTML
The "Print Lesson" option allows students to easily print entire SoftChalk Create lessons from their web browser. This print feature ensures that the pages will print correctly and that text will not run off the edge of the printed page.