SoftChalk Named CODiE Award Finalist for Third Consecutive Year
Posted April 12, 2011 in Press Releases, SoftChalk News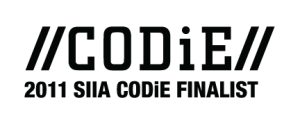 2011 SIIA judges nominate SoftChalk as 'Best Postsecondary Instructional Solution' and 'Best Education Technology Solution for Productivity/Creativity'
RICHMOND, VA, April 12, 2011 — SoftChalk, LLC, a leading developer of content authoring software for e-Learning, today announced that it has been selected as a finalist in the 2011 Annual CODiE Awards in Education Technology for 'Best Postsecondary Instructional Solution' and 'Best Education Technology Solution for Productivity/Creativity'.
The CODiE Awards are conducted by The Software & Information Industry Association (SIIA) as a way to showcase the industry's finest products and to honor excellence in corporate achievement. This year 425 total nominations underwent an extensive review by judges via live demonstration, trial product access, and analysis of product documentation.
SoftChalk was selected as a finalist for the current release of its content authoring solution, SoftChalk 6. The software allows educators to transform static documents into interactive learning modules, lessons and courses with embedded media, learning activities, comprehension questions and formatting features. SoftChalk also offers ScoreCenter, a reliable method to track student data and CONNECT, an online community and learning object repository.
"The CODiEs are one of the most prestigious and competitive award programs in the industry. As a two time winner in the Best Postsecondary Instructional Solution and Best Education Technology Solution for Productivity/Creativity categories we are honored that SoftChalk has been chosen as a finalist again this year," said Susan Evans, CEO of SoftChalk."
Karen Billings, Vice President of the SIIA Education Division, commended the companies that qualified as finalists: "The CODiEs reflect excellence and innovation in the education technology industry. We are pleased and proud to have so many companies participating this year and to have so many moving on to the member voting phase. Billings continued, saying, "We have a diverse range of companies represented, which reflects the overall health of the industry."
About SIIA
The Software & Information Industry Association (SIIA) is the principal trade association for the software and digital content industry. SIIA provides global services in government relations, business development, corporate education and intellectual property protection to more than 500 leading software and information companies. The SIIA Education Division serves and represents more than 150 member companies that provide software, digital content and other technologies that address educational needs. The Division shapes and supports the industry by providing leadership, advocacy, business development opportunities and critical market information. For more information, visit www.siia.net/education.

About SoftChalk
SoftChalk, LLC is an award-winning provider of e-Learning software for worldwide education and business institutions. Specializing in the development of intuitive, easy-to-use tools, SoftChalk products allow instructors to create powerful and professional-looking content for e-Learning and smart classrooms in K-12, higher education and corporate training. For more information, visit www.softchalk.com.